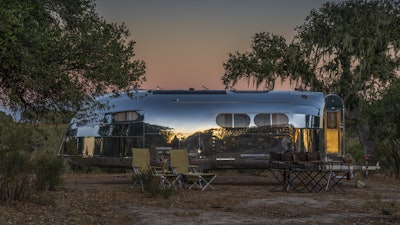 PRNewswire
Bowlus announced what it's calling the world's first production all-electric RV, the Volterra luxury travel trailer.
The Volterra features fully electric power with a 100% increase in battery capacity from previous models, as well as the first application of AeroSolar in the RV industry. Combined, these features give Bowlus customers the ability to be off-grid indefinitely. Additionally, the Volterra is the first travel trailer with an induction cooktop and the first RV with integrated high-speed satellite internet. The Volterra also features a new back-up camera, a 150% increase in fresh water storage capacity and a limited-edition color palette.
The Volterra is now available for order from Bowlus as part of the brand's 2023 product lineup at www.Bowlus.com. Pricing for the Volterra begins at an MSRP of $310,000.