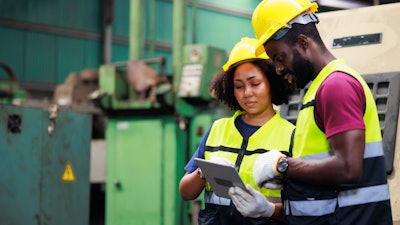 iStock
A group of local manufacturers and community partners today launched the Industrial Training and Education Consortium of the Lehigh Valley (iTEC). Announced at the Lehigh Valley Manufacturing Forum in Bethlehem, iTEC is a regional apprenticeship program established to provide industrial skills training and talent development to meet the needs of the Lehigh Valley's growing manufacturing sector.
As a Pennsylvania nonprofit corporation, iTEC partners with industry, education, government and community organizations across the Lehigh Valley to promote careers in advanced manufacturing. Lehigh Valley Economic Development Corporation (LVEDC) has been providing administrative support. Apprenticeship certifications, educational outreach and training for company mentors are managed by the German American Chamber of Commerce.
"The Lehigh Valley is home to more than 700 manufacturers making everything from medical devices to industrial equipment to food products and nearly everything in between," said Don Cunningham, President and CEO of Lehigh Valley Economic Development Corp. (LVEDC). "Our manufacturing renaissance is driven by the skilled employees in the region. As we grow, it's critical to continue that talent pipeline."
Other iTEC officers include Mark Tervalon, Chief Operating Officer at Lutron Electronics (vice chair), Thomas Kolbe, Senior Vice President Competence Center Cement at Heidelberg Materials (treasurer), and Ayesha Herrera, Director of Human Resources at OraSure Technologies (secretary). Other participating companies include Bracalente Manufacturing Group, Hospital Central Services Cooperative, Keurig Dr Pepper, Julabo USA, and Thread Bioscience.
"While learning or upgrading their skills, iTEC apprentices earn a salary on the job with the opportunity to earn a tuition-free college degree," said Nancy Dischinat, Executive Director of Workforce Board Lehigh Valley. "This is a fantastic opportunity for anyone looking for a dynamic, rewarding career in advanced, diversified manufacturing."
Funding for iTEC is provided by member companies and a $183,000 grant awarded to Workforce Board Lehigh Valley in late 2022 by the Pennsylvania Department of Labor and Industry.
iTEC is currently offering state-registered apprenticeship programs in Mechatronics and Industrial Manufacturing Technician career paths. Current training providers include Lehigh Carbon Community College and Northampton Community College. Additional programs and training providers will be available soon.