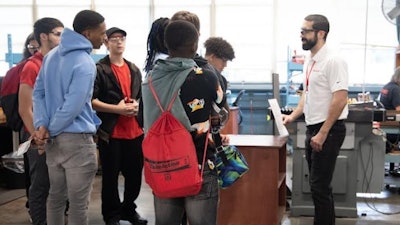 L.S. Starrett Company
The L.S. Starrett Company, a global manufacturer of precision measuring tools and gages, metrology systems and more, announced that it opened its doors to students and the community on Oct. 6 from 10 a.m. to 2 p.m. for Manufacturing Day at Starrett corporate headquarters, located at 121 Crescent Street, Athol, Massachusetts.
Manufacturing Day activities nationwide were sponsored by the National Association of Manufacturers, an organization that works for the success of more than 12.8 million men and women who make things in America.
The Starrett event featured guided tours of its headquarters facility and highlighted a range of opportunities in manufacturing innovation and technology in the following areas: CNC programming, robotics automation, 3D modeling, drafting, Industry 4.0 and training and development. Special demonstrations were given on computer aided manufacturing and part manufacturing. Each visitor received a collection of Starrett branded merchandise, and had the opportunity to participate in contests to win Starrett products.
Starrett Manufacturing Day drew approximately 90 visitors, which included students from North Bennet Street School, Athol-Royalston Regional High School, Smith Vocational and Agricultural High School and Essex Tech Nighthawks CNC training program in collaboration with North Shore Community College. Also in attendance were members of GAAMHA (Gardner Athol Area Mental Health Association), employees from local companies and individuals from the community.