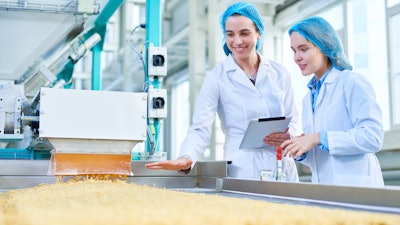 iStock
ENTITY Academy, an organization focused on accelerating the careers of women and diverse talent in the 21st-century workforce, announced the launch of Career Catalyst.
Career Catalyst offers live instruction from senior business leaders, personalized one-on-one coaching by mentors, fireside chats with business luminaries and asynchronous microlearning modules all delivered through a proprietary learning platform. The program is designed to accelerate human potential in the age of AI.
The program is now available for the food and beverage industries.
Career Catalyst provides companies within the food and beverage industries a full-service solution to improve retention, meet diversity goals and enhance the talent pipeline of future women and diverse leaders. The program delivers community, collaboration and access to role models to inspire, motivate and provide a guide for the challenges presented in starting a new role.
Over 150 seasoned mentors support the program including Sandra Lopez (Former General Manager, Microsoft), Fernanda Sarmento (Partner Strategist, Meta / Aditi Consulting), Soo-Youn Yi (SVP Security Policy Governance, PNC Bank) and Toby Usnik (Head of Communications for the British Consulate General of NY) among others.
"ENTITY Academy is on a mission to close the wage gap faced by women and diverse talent and support entry-level employees seeking to accelerate their careers," CEO and founder of ENTITY Academy Jennifer Schwab said. "We leverage years of experience developing pre-bachelor's degree talent with a solution that can support all entry-level employees."