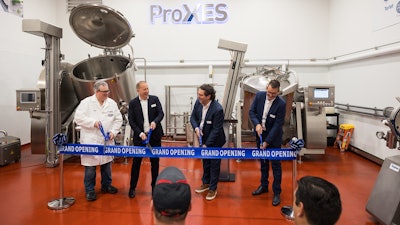 ProXES
ProXES Inc. announced the opening of its new North American Technical Center in Mundelein, IL. The Technical Center is utilized for the development and demonstration of the latest process technologies used in the food, pharmaceutical, cosmetics and advanced materials industries. Our process experts will partner with our customers in a unique synergy of collaboration and co-creation.
"With the addition of our Technical Center, we can now collaborate and demonstrate our customers' processes from lab scale to production scale," Ryan Dodd, Managing Director of ProXES Inc., said. "This capability allows our customers to capitalize on our expertise and bring their products to market faster and more efficiently."
The new 2,000-square-foot facility boasts a range of capabilities, including liquid and solid dosing, cutting, chopping, milling, blending, mixing, dispersing, emulsifying, cooking, heating, cooling and deaerating products for batch and continuous production. The location also covers a range of industries, including soups, spreads, skincare, haircare, oral care, chemicals and coatings.