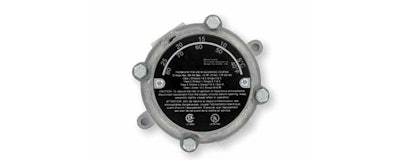 KEMP, TX — Manufacturer of industrial explosion proof lighting and equipment, Larson Electronics LLC, has released an explosion proof thermostat rated at 480V AC that offers temperature control for hazardous industrial facilities. This unit has a temperature limit range of -45°C to 80°C and has a set point knob system powered by a SPDT snap action switch, which allows operators to adjust the device.
The EXP-TSTAT-120.480-86F explosion proof thermostat provides accurate temperature control for heating, cooling and ventilation systems located in facilities where flammable gases, vapors or dust exist, or may exist. This device has a SPDT action switch rated at 480V AC and an adjustable set point job. This knob allows operators to configure the thermostat.
Constructed of precision die-cast and corrosion resistant components, this thermostat can operate safely and efficiently under harsh conditions. Additionally, this unit does not have any copper, brass or mercury exposed. To achieve the highest amount of accuracy this unit must be mounted at 5 feet off the floor. This height improves reading accuracy and reduces any chance of false readings.
"This explosion proof thermostat is a great accessory for heating and cooling equipment in hazardous work environments," said Rob Bresnahan, CEO of Larson Electronics LLC. "It has a variety of features in place that ensure accurate readings and can easily be mounted to walls or other surfaces."