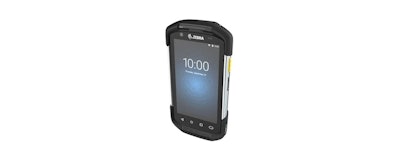 LINCOLNSHIRE, IL — Zebra Technologies Corporation unveiled the next generation of enterprise-class handheld mobile touch computers designed to help retail, manufacturing and transportation and logistics companies empower their front-line workers to deliver a superior level of customer service and satisfaction. These new models add to Zebra's industry-leading portfolio of Android-based, enterprise-class mobility solutions available to customers and to Zebra's PartnerConnect community.
Zebra's newest Android-based TC52/TC57 and TC72/TC77 rugged mobile computers offer a unique blend of award-winning industrial design features combined with an enhanced Mobility DNA (M-DNA) suite of productivity, administration, end-user applications and developer tools. The new touch computers build on Zebra's highly-successful TC51/TC56, TC70x/TC75x and TC70/TC75 touch computer series. With more than one million units shipped over the last five years, the innovative devices offer a proven platform of shared accessories and software on the common Android™ operating system (OS).
"As support for the Windows Mobile/CE OS inches closer to ending, businesses must choose an alternative platform and mobile computing solution that will maximize workforce productivity and return on investment," said David Krebs of VDC Research. "Zebra's new TC5x and TC7x touch computers supported by M-DNA, build on their existing industry-leading mobile computing solutions, providing customers and partners with reliable, durable and modern mobile solutions to support their front-line workforce."
The new TC5x and TC7x touch computers offer four new enhancements to the M-DNA suite designed to drive improved workforce productivity, security and connectivity for customers with a Zebra OneCare contract. These enhancements include:
PowerPrecision Console provides IT administrators with push notifications and an easy-to-read dashboard indicating color-coded battery health and status across a fleet of devices to easily spot and remove aging batteries.
WorryFree Wi-Fi enhanced Wi-Fi radio technology supports workforce productivity with superior network connectivity and fast roaming. Wi-Fi issues are easily and quickly resolved through the Wi-Fi analyzer client app which offers analysis and troubleshooting in real-time.
GMS Restricted Mode is an industry first enhancement for Zebra's StageNow app offering IT administrators the ability to customize device access to Google® Mobile Services (GMS) to improve work efficiency, privacy and security.
LifeGuard for Android, Zebra's extended security solution, delivers aggressive security/patch updates well beyond consumer support and now offers a dashboard for extra visibility and control over when and how devices are updated.
The new TC5x and TC7x touch computers provide businesses with the lowest total cost of ownership (TCO) in the industry by securely extending the life of the devices deployed at the edge of the enterprise through additional support and compatibility with future generations of Android, in addition to the LifeGuard solution. The new touch computers also offer technological advancements that maximize productivity, such as an ultra-powerful processor for faster application execution, innovative locationing support using Visible Light Communications (VLC) and the latest WiFi/Bluetooth® enhancements to deliver faster speeds and better range without draining battery power. These features help ensure that in-store staff, direct store delivery (DSD) drivers, field service workers and first responders stay connected to their teams and networks to make best-action decisions in real time.
The ergonomic TC5x and TC7x touch computers are ideal for a variety of applications inside and outside the four walls involving inventory management, price/audit changes, click and collect, last mile delivery, DSD and route optimization. However, the TC7x series' ultra-rugged construction and drop-resistant features further enable usage in warehouse and fleet management applications such as product picking/put-away, proof of delivery and pick up, electronic driver logging and track and trace.

"Zebra is a global leader in enterprise mobile computing solutions offering Android-based enterprise-class devices designed with front-line workers, workplaces and workflows in mind to give businesses a performance edge," said Archana Khetan, Vice President Product Management, Enterprise Mobile Computing at Zebra Technologies. "The new TC5x and TC7x mobile touch computers are designed to enable customers to improve workforce productivity, increase staff collaboration and safeguard sensitive data and connections on a field-proven device that has been successful for over a million customers."
Zebra also announced today its participation in Google's recently launched Android Enterprise Recommended (AER) program as part of its continued commitment and leadership to Android. Google's AER program independently validates enterprise-class mobile computing solutions against an elevated set of standards which help businesses select from a curated list of verified vendors. The new TC5x and TC7x series will soon join the previously-certified TC25, TC51/56, and the TC70x/75x.
Built upon Zebra's award-winning current TC5x and TC7x touch computer series, the new TC52/TC57 and TC72/TC77 mobile computers are among the most advanced, rugged enterprise-class devices, engineered to increase staff productivity and optimize operations across retail, manufacturing and transportation and logistics environments.
Both new mobile computing solutions share an advanced Android-based platform featuring the latest Qualcomm chipset which supports an extensible platform for application development and provides customers with a predicable roadmap to significantly lower TCO.
Zebra's enhanced M-DNA is the industry's top mature and extensive suite of enterprise mobility software and tools that help manage security updates, improve network access and increase staff collaboration and workforce productivity.