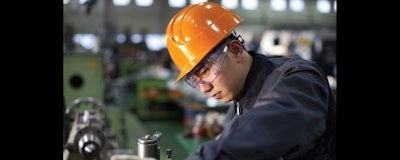 The word housekeeping is defined as the "management of household affairs". But if you replace the word "household" with "workplace", you'll discover good housekeeping at work goes beyond cleanliness. It affects the entire working environment. There are many moving parts within a workplace — complex equipment, inventory, and labor. Everything must be in working order for operations to run safely and smoothly to avoid dangerous incidents and costly fines. But managing the safety of tens, hundreds, or even thousands of workers and equipment can seem impossible.
Computerized Maintenance Management Software (CMMS) puts the beyond reach within reach by streamlining workplace maintenance for safety professionals. It allows users to maintain assets and manage preventative maintenance using one, digitized tool.
As safety leaders with proven maintenance management software and 20 years of health & safety industry experience under our belt, here's our list of must-haves when choosing CMMS:
Work Order & Inventory Management — A good work order management system requires coordination & participation across multiple teams. With CMMS, gone are the days of manually checking inventory records.
Digitizing management with CMMS streamlines the process, providing a single platform for cross-functional teams to track equipment specific-details, assign and close work orders, and provide easy record keeping capabilities.
Document Management — There are so many different documents associated with equipment: permits, manufacturer operating & maintenance docs, standard operating procedures and more, all for just one piece of equipment. That's a lot of paper to keep track of! With CMMS, users can have all asset documentation in one place, available in the click of a button or tap on a screen.
Mobile — These days, everything can be done using your mobile device. Bringing mobile capabilities to equipment maintenance has proven to be valuable, enabling users to take the power of CMMS anywhere at any time, and even offline with the cloud. Some systems even offer mobile capabilities that include Quick Response code scanning, allowing users to simply scan a code for access to critical information.
Scheduling — Scheduling tools make it easy to manage maintenance throughout a facility by enabling managers to view and update technician and employee schedules instantly, eliminating over-scheduling and reducing time wasted. Scheduling also helps with preventative maintenance by automatically notifying employees when maintenance is required.
Manage The Entire Equipment Lifecycle — CMMS should be able to manage your assets from the moment they enter your facility to the moment they retire. This includes scheduling & executing preventive maintenance inspections, assigning & tracking Work Order requests and tracking outages and asset history.
Don't let workplace housekeeping stress you out. Boost maintenance staff productivity and team visibility, upkeep safety and permit critical compliance and manage the entire equipment lifecycle with Gensuite. Gensuite's comprehensive health and safety software applications enable users to manage operating assets through equipment tracking, work orders and preventative maintenance, and integrated regulatory compliance. The Maintenance Manager application is an execution-tuned Work Order and Maintenance System, leveraging integrated online equipment repository and preventative maintenance tracking solutions as part of our Equipment Maintenance suite of applications.
Ma Joelle Lingat is a techinal writer for Gensuite. This article originally appeared here.