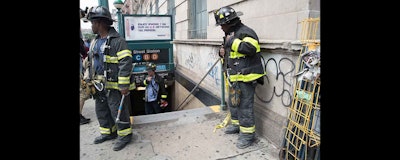 NEW YORK — A subway train derailment in New York City that injured nearly three dozen people and sparked major delays is being blamed on human error, not a track defect.
A preliminary investigation indicates the derailment just before 10 a.m. Tuesday in Harlem was caused by "an improperly secured piece of replacement rail that was stored on the tracks," Metropolitan Transportation Authority Chairman Joe Lhota and Interim Executive Director Ronnie Hakim said in a joint statement late Tuesday night.
"Storing equipment in between tracks is a common practice employed by railroads across the country to accelerate rail repairs," the statement said. "The key to this being an effective and safe practice is making sure that the extra equipment is properly bolted down, which does not appear to have happened in this case."
The derailment tossed people to the floor and forced hundreds of passengers to evacuate through darkened tunnels.
Crews are inspecting "every inch of rail" to ensure that every replacement part "is properly stored and secured," MTA officials said, adding that the investigation is ongoing.
Service on the four affected subway lines was restored Wednesday morning, though riders were told to expect residual delays.
Passengers on the A train Tuesday said it suddenly jerked and began shaking violently as it approached the station at 125th Street and St. Nicholas Avenue.
"We started seeing sparks through the windows. People were falling," said passenger Susan Pak, of Englewood Cliffs, New Jersey.
The derailment came after a winter and spring marked by mechanical failures, power outages and several episodes in which passengers were trapped on stuck trains for an hour or more. Some state lawmakers demanded that the Legislature take up emergency funding for the system in a special session scheduled for Wednesday.
Jack Cox, a software developer, said he felt a "large thump" and heard and felt the train grinding for as long as 30 seconds.
"During the whole time, it was just like 'What's going on? What's going to happen?' Then it stopped," he said. "I didn't have time to be scared before then, but I looked around and the woman next to me was curled up in some sort of fetal tuck."
Cox said smoke started coming in from one end of the car.
"It wasn't heavy smoke, but it was frightening," he said.
Passengers ended up walking through the darkened cars using their cellphone lights and exiting onto the platform.
Three other trains approaching the station halted in their tracks. Emergency crews shut off track power after derailments to prevent evacuees from being electrocuted.
Julian Robinson said he was stuck on one of them for about an hour before rescuers arrived to escort passengers along the tracks into the station.
Gov. Andrew Cuomo called the derailment "an unacceptable manifestation of the system's current state."
"It is my expectation that with new leadership brought by Joe Lhota, the MTA will address the fundamental issues plaguing the transit system and overhaul the organizational structure of the MTA," the Democratic governor said.