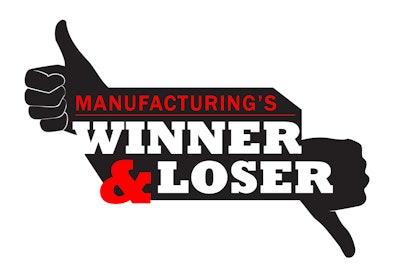 This week's winner who has invested $70 million in smart manufacturing; this week's loser is shedding up to 30,000 jobs — and it's not the first time.
Winner
The Department of Energy is investing $70 million into smart manufacturing with its next Clean Energy Manufacturing Innovation Institute grant. They are hoping to make American manufacturing more efficient and productive while also reducing the cost of operations. The goal is to reduce the cost of the deployment of advanced sensors, controls, platforms and modeling by 50 percent, as well as improve energy productivity by 50 percent and energy efficiency by 15 percent.
The research would take place inside the Innovation Institute on Smart Manufacturing, where public and private entities will work to create a regional hub for applied research and development.
"SMART Manufacturing is a key information technology approach to unlocking energy efficiency in manufacturing," Secretary of Energy Ernest Moniz said. "These technologies will make industries from oil and gas to aerospace and food production more competitive with intelligent communications systems, real-time energy savings and increased energy productivity. Energy intensive industries, such as steelmaking, could see a 10 to 20 percent reduction in the cost of production, making products such as solar panels and chemical materials, such as plastics, as well as the cars and other products they go into, more affordable for American consumers."
This investment could lead to great savings for consumers and manufacturers alike in addition to being eco-friendly by reducing energy use. So, for investing in this important step for our economy and our environment, the Department of Energy is this week's winner.
Loser
Hewlett-Packard Co. is spinning off into two separate companies scheduled to be complete by the end of October. The first is HP Inc., which will deal with the PC and printing operations, and the other is HP Enterprise, the bundle of technology divisions focused on software, consulting and data analysis.
Along with this move comes the cutting of 25,000 to 30,000 jobs within the HP Enterprise group.
Over the past few years, HP has already shed 55,000 jobs under CEO Meg Whitman. While these cuts are being made at HP, many other technology companies, such as Google — whose workforce increased by 77 percent over the past four years — are on hiring sprees.
The company is making the cuts in an attempt to offset the damage caused by acquisitions that fell through, as well as the technological shift from PCs to mobile devices, reducing the demand for many of the company's key products.