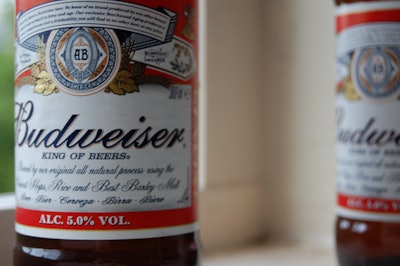 ST. LOUIS (AP) — Budweiser has long been known as the "King of Beers," and Anheuser-Busch is taking exception to a craft brewer declaring itself holder of the "Queen of Beer" crown.
She Beverage Co. of Lancaster, California, applied in December to register "The Queen of Beer" phrase with the U.S. Patent and Trademark Office, the St. Louis Post-Dispatch reported.
Anheuser-Busch filed a notice of opposition Wednesday, arguing that "Queen of Beer" is too similar to "King of Beers" and that consumers might wrongly believe She Beverage beers are made by Anheuser-Busch.
She Beverage co-owner Lupe Rose said the company launched sales at retailers and restaurants in April.
"We noticed there weren't a lot of beers targeted to women," she said, describing the beers as higher in alcohol than many drinks targeted to women. Rose said its IPA beer is smoother than many available, another quality that she said women prefer. Its products include Dirty Blonde Cali Citrus Amber and Brunette German Dopple Bock.
She Beverage uses the "Queen of Beer" phrase in marketing, including social media and on its website.
Anheuser-Busch, in its opposition filing, argued that the patent office's Trademark Trial and Appeal Board previously ruled in its favor against another company that sought to trademark "Queen of Beers."
"The Queen of Beer mark is virtually identical to (Anheuser-Busch's) King of Beers marks with the exception of replacing the word 'king' with the connotatively similar word 'queen,'" it wrote in its opposition filing.
Anheuser-Busch spokesman David McKenzie said opposing trademark filings is routine.
Rose said she was surprised by the opposition since Anheuser-Busch hasn't trademarked the "queen" phrase.
"There is no 'Queen of Beer,' and we're a female-owned company," she said.
She plans to continue to pursue the trademark.
"It's important for us to fight," she said. "We are creating our own lane."