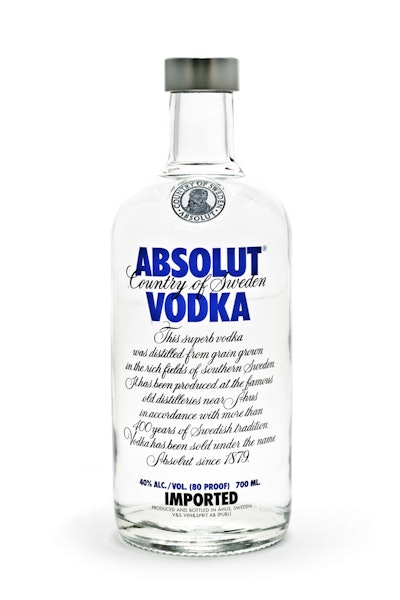 Analysts expect Pernod Ricard to post higher sales and profits in the spirits giant's forthcoming quarterly report, according to The Wall Street Journal.
The survey cited by the Journal anticipated an 8 percent sales increase and a 30 percent increase in net income due to strong performances in Europe, China and India.
But there's a problem: the company's flagship product is faltering in the U.S., the industry's most promising market.
Pernod owns dozens of liquor brands, including Jameson Irish whiskey and Beefeater gin. Its flagship, however, is Absolut vodka, and volumes of that spirit are on the decline in the U.S. overall.
Meanwhile, as its competitors invest in the booming bourbon industry, Pernod doesn't include bourbon among its whiskey offerings.
Paris-based Pernod, according to the Journal report, held strong — despite the evolving U.S. market — due to the rise of middle-class drinkers in emerging countries in Asia and South America.
Stagnant economies worldwide, however, made the U.S. an even more critical market for spirits companies.
Pernod, analysts said, will need to reinvigorate its existing brands in the U.S. or venture into the acquisitions market in order to overtake industry leader Diageo.
"It's not universal doom and gloom, but they're in a tough situation," analyst Trevor Stirling told the Journal. "There are no quick fixes for Absolut."