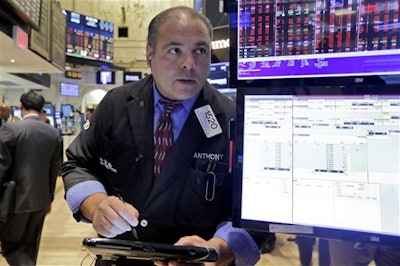 NEW YORK (AP) — Stocks plunged again Tuesday, continuing a rocky ride for Wall Street, after gloomy economic data out of China rekindled fears that the world's second-largest economy is slowing more than previously anticipated.
Tuesday's sell-off adds to what has been a difficult few weeks for U.S. and international markets. U.S. stocks are coming off their worst month in more than three years. It also dashed hopes that, after some relatively calm trading on Friday and Monday, the stock market's wild swings were coming to an end.
"Monday's relatively peaceful markets are a distant memory as Chinese data and shares sparked another severe overnight reaction from the developed world," said John Briggs, head of fixed income strategy at RBS.
As of 1:35 p.m. Eastern time, the Dow Jones industrial average was down 400 points, or 2.4 percent, to 16,127. The Standard & Poor's 500 index declined 49 points, or 2.5 percent, to 1,922 and the Nasdaq composite dropped 117 points, or 2.4 percent, to 4,660.
As it's been for the last several weeks, the selling and problems started in Asia.
An official index of Chinese manufacturing fell to a three-year low last month, another sign of slowing growth in that country. The manufacturing index, which surveys purchasing managers at factories, dropped to 49.7 in August from 50.0 in July. A reading below 50 indicates a contraction.
China's stocks sank on the news, with Shanghai Composite Index closing down 1.2 percent. The index has plunged 34 percent in the last three months.
The Chinese economy has been a key focus for investors all summer, and the concerns have intensified in the last three weeks. China devalued its currency, the renminbi, in mid-August. Investors interpreted the move as an effort to boost economic growth.
Investors moved into traditional havens like bonds and gold Tuesday. Bond prices rose, pushing the yield on the benchmark 10-year Treasury note down to 2.19 percent from 2.22 percent on Monday. Gold rose $5.30, or 0.5 percent, to $1,138.20 an ounce.
Faced with the possibility of slowing demand in China, commodity markets once again fell.
Benchmark U.S. crude slumped $3.43, or 7 percent, to $45.77 a barrel on the New York Mercantile Exchange. Industrial metals like copper and palladium fell 2 percent.
Energy stocks were once again among the biggest decliners. Exxon Mobil fell nearly 4 percent and Chevron fell 2.5 percent. Exxon is down 22 percent this year, Chevron 30 percent.
FED WATCH: Along with worries about China, speculation about whether or not the Federal Reserve will raise interest rates as soon as this month continues to weigh on markets. Traders say a lot hinges on the August jobs report, released this Friday. Economists are forecasting that U.S. employers created 220,000 jobs in August, and that the unemployment rate fell to 5.2 percent.
The Federal Reserve meets September 16 and 17. Some economists are predicting that policymakers will be confident enough in the U.S. economic recovery to raise interest rates for the first time in almost a decade. While Fed officials are mostly focused on the U.S. economy, they cannot ignore the problems in China and the impact on the global economy.
"China's problems are totally a concern for the Fed," said Tom di Galoma, head of rates trading at ED&F Man Capital. "With inflation remaining low here, I just don't a reason why they would raise rates."
OTHER DATA: Here in the U.S., a private survey showed that growth in US manufacturing slipped last month to its slowest pace in more than two years. The Institute for Supply Management, a trade group for purchasing managers, reported Tuesday that its manufacturing index slid to 51.1 last month from 52.7 in July. It was the second straight drop and the weakest reading since May 2013.
ACROSS THE GLOBE: Markets in Europe were broadly lower, with Germany's DAX down 2.4 percent, France's CAC-40 falling 2.4 percent and the U.K.'s FTSE 100 index falling 3 percent. Japan's Nikkei 225 was also volatile, dropping 3.8 percent. The Hang Seng in Hong Kong sank 2.2 percent. Stocks also fell in South Korea and Australia.
CURRENCIES: The dollar fell to 119.87 yen from 121.20 yen on Monday. The euro rose to $1.1303 from $1.1225.