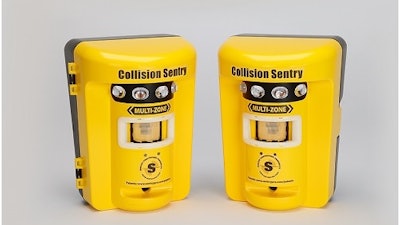 Sentry Protection Products (Lakewood, OH) introduces the next generation of collision warning systems – the Collision Sentry Multi-Zone. Like earlier models of the Collision Sentry, the Multi-Zone is designed to create a safer work environment by reducing or eliminating blind spot collisions. The difference is the Multi-Zone expands the possibilities for preventing collisions in multiple areas, not just corner intersections. Specifically:
The Collision Sentry Corner Pro unit mounts on a corner at a 90-degree angle. But not all "blind spots" are at corner intersections. The Collision Sentry Multi-Zone gives you the flexibility to define the conflict zones in your facility that need protection.

The Multi-Zone features two units that communicate with each other wirelessly. Mount the units in any two places where there are conditions for a potential collision. For example, that could be on each side of a passageway between buildings or inside and outside of an exterior door. The two units act as one. If both see motion, meaning a possible collision, both flash a synchronized audio and visual warning.

The units are battery-powered, requiring no additional wiring or electric, and making them portable and easily re-located. You define the conflict zones where protection is needed.

Units are factory preset and can magnetically or mechanically be attached to walls and other substrates. The field of vision ranges from 50 degrees to 134 degrees. Depending on the facility, the distance separating the two units can be up to 100 feet.