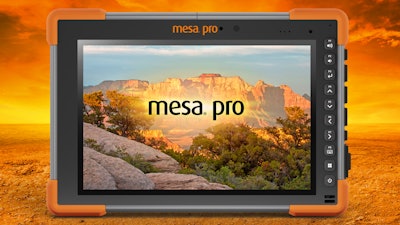 Juniper Systems
Juniper Systems recently unveiled the new Mesa Pro Rugged Tablet. Each feature of the Mesa Pro was developed or enhanced from previous technology as a direct response to an anticipated need or direct feedback from users. While the needs of every industry are similar, the applications vary.
Screen
The industrial sector doesn't have a "normal" work environment. An office is wherever you are: the cab of your truck, large low-light buildings or directly in the sun and the elements outdoors. Juniper created its first rugged tablet in the 10-inch segment for any environment.
Ensuring that data remains readable in any environment is a priority. The high-visibility backlit LCD offers 800 NITs of peak brightness for a bright image even in direct sunlight. An integrated polarizer (landscape orientation) allows for use with polarized sunglasses.
While touchscreen capabilities tend to fail in many conditions, the Mesa Pro offers specific touch profiles for regular use, gloved hands and wet screen conditions.
The 10.1-inch display offers a resolution of 1920x1200. A larger screen paired with better resolution means more room for information within the boundaries of the screen. Whether it's maps, CAD plans or data capture software, users can expect to see more of their data on screen at once.
Field Ready
Keeping with the long history of rugged, field-ready technology for your outdoor office, the Mesa Pro has an aluminum frame giving the whole device a rigid core and providing support. The display offers the largest area of potential damage from impact. An optically bonded screen and the frame underneath offer protection.
In anticipation of falls and impacts, the large corner bumpers are raised, providing a gap between the screen and the ground that prevents a direct impact. The other case materials offer a strong and durable outer body.
The tablet has been tested to meet MIL-STD-810H (military standard) certifications. The testing includes repeated drop tests from four feet to concrete, shock resistance, dust ingression and extreme operational temperatures.
Battery
Mesa Pro features a battery design that allows for all-day use, 43.2 Whr with one battery, or 86.4 Whr total when using two batteries. The dual battery approach allows for easy charging in the field as well as hot-swapping capabilities.
An integrated LED charge indicator also provides instant feedback when grabbing batteries to swap in, making sure users always have a full charge. A dual bay battery charger is available that allows for fast charging of two batteries, or the Mesa Pro itself is capable of internal rapid charging. Users aren't tethered to an electrical outlet for hours before they can get back out in the field.
Connection
The Mesa Pro offers a range of inputs and connectivity options to facilitate gathering, reading and sharing data. The connectivity makes the Mesa Pro an easy upgrade for any field computer as well as a laptop replacement.
Between 19 VDC power input, multiple USB and an audio jack, other devices will be able to share information seamlessly. For wireless connectivity, the Mesa Pro is capable of working over many carriers' 4G LTE networks (cellular enabled devices), Wi-Fi or Bluetooth.
Customizable
All of Juniper's handhelds are assembled in the company's Utah-based facilities, which means deep customizations are available. Options range from simple brand-matching to hardware integrations. The company can also customize the bumper colors as well as display a company's logo on the devices itself and during the power-up screen.
Integrated hardware solutions are made easier with two areas in the device left open for expansion. Potential integrations include radios, sensors, RFID and barcode readers and antennas. The aim with customization is to streamline processes and equipment with one device.