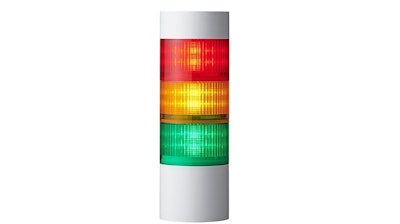 PATLITE Corporation (Torrance, CA) announces the latest product in its renowned LR signal tower series, the 100mm-diameter wide, outdoor-ready LR10 signal tower. The new LR10 signal tower adapts the smooth surface design of PATLITE's LR series with added high environmental performance and conforms to various global compliances.
The new LR10 signal tower is PATLITE's largest and widest signal tower to date, making it high-visible in the busiest of environments, both indoor and outdoor. It also features a IP69K-rated design and meets the most stringent intrusion protection rating. This makes the LR10 signal tower highly protective against machine dust and water that might leak into the device and do well in high-temperature, high-pressure and steam-jet environments. Additionally:
With outstanding visibility at its core, the LR10 signal tower is equipped with various lighting patterns including continuous on, flashing, triple flash, motorless rotation and light dimming to give you numerous signaling possibilities in the workplace.

A common feature in all of PATLITE's LR signal towers, the LR10 is also modular and fully customizable so you can choose the LED color modules that suit your business practices best without preset and locked out-of-box builds.

The LR10 comes standard with continuous on and blinking flashing that captures workers' attention in various ways.

A dimming feature is also possible to meet diverse user requirements.

Triple-flash and motorless-rotation options are also offered to indicate machine readiness and various other statuses in your facility.
www.patlite.com, 888-214-2580