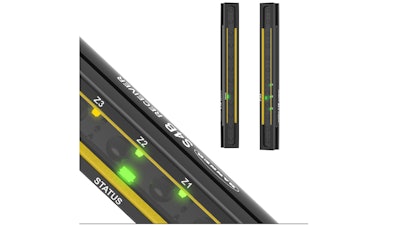 Banner Engineering
Banner Engineering (Minneapolis, MN) introduced the S4B, a heavy-duty safety light curtain that is quick and easy to install.
A Type 4 light curtain, the S4B delivers durable, dependable sensing for a range of applications and is easy to install, operate and troubleshoot.
Features
30 mm resolution for optimal hand detection
End-to-end sensing in lengths from 300 mm to 1800 mm
12-meter range
Weak beam strength warning LED
Remote signal for local alerts
Plug-and-play pigtail with 5-pin M12 connection
The S4B helps operators minimize downtime by helping operators address problems before they become serious issues.
Installation is simple using the adjustable bracket. The light curtains click into place, are rotated into alignment, then locked in place with bracket fasteners. Tricolor LED alignment zone indicators instantly show if the curtains are properly or nearly aligned.