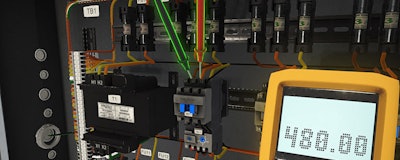 Simutech Multimedia, a provider of simulation training used by more than 500 global manufacturing and industrial companies, has launched a new 3D simulation-training platform designed to help equip operations and maintenance professionals with the skills needed in an increasingly digitally-connected manufacturing environment.
With over 2.4 million manufacturing jobs projected to go unfilled according to a recent Deloitte study, Simutech Multimedia's new platform provides manufacturers the tools and data needed to identify, assess, onboard and train the next generation of skilled laborers, especially in the electrical troubleshooting field.
"This fully-immersive setting allows users to reap the benefits of better retention rates attained by simulation training as well as learn in a realistically-replicated environment they are accustomed to," says Warren Rhude, CPO of Simutech Multimedia. "The new instructional simulation teaches professionals how to configure and troubleshoot industrial sensors and PLC analog inputs, PLCs and associated devices growing more prevalent in the modern production plant."
Enabled by the 3D-training platform, users will be able to explore an industrial environment and understand results occurring from changing temperatures, humidity and light.
"It's becoming clear that AI and VR technology will play a critical role in educating the modern factory worker," says Simutech Multimedia CEO Samer Forzley. "Our technology has taken a massive leap forward to meet the demands of today's operations and anticipates the manufacturing training absolutely necessary in the future fully-connected manufacturing world."
In addition to continuous improvement performance data available to management, future updates of the platform are set to incorporate leading AI technology that would identify users' weaknesses and strengths and plan the best training routes to reach their goals.
The new Troubleshooting Industrial Sensors instructional tool will also give users the hands-on ability to take voltage, current and resistance readings, and interactively view the PLC ladder program through the virtual laptop to identify problems with sensors, transmitters, PLCs, wiring and other input and output components.