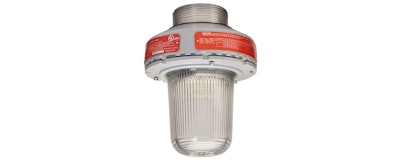 Emerson announced the new Appleton Code●Master Jr. LED factory-sealed luminaire that combines the energy-efficiency of LED (Light Emitting Diode) solid-state technology with the familiar lighting patterns of traditional incandescent and HID (High Intensity Discharge) fixtures. Compatibility with existing Code●Master Jr. products makes it easy to retrofit an existing installation in less than five minutes. In addition, the luminaire delivers crisp white light for superior color rendering and a safer working environment, while allowing facility managers to take full advantage of impressive LED cost savings of up to 85 percent in petrochemical and chemical processing plants, refineries, waste treatment centers and other hazardous industrial locations.
"The Code●Master Jr. HID has been an industry standard for more than five decades," said Christy Buttner, lighting product manager for Emerson Automation Solutions. "The new Code●Master Jr. LED provides the same durability and reliability as the original along with money-saving energy efficiency. Retrofitting the HID fixture only calls for removing the older fixture and threading in the new LED version, a process that takes mere minutes to complete."
The Code●Master Jr's. easy installation makes it an ideal lighting solution for high energy cost areas. The only wiring required is attaching two wires to the connection block of the mounting hood. Acme double-lead threads speed installation and fixture removal from the mounting hood with only half as many turns required compared to single-lead threads.
Up to 85 Percent Energy Savings
The Code●Master Jr. enables facility managers to potentially save tens of thousands of dollars on utility bills by consuming 85 percent less energy than incandescents or 50 percent less energy than HIDs. The luminaire delivers 60,000 hours of labor-saving, virtually maintenance-free lighting operation, adding value by lowering maintenance costs and requiring fewer stand-by units be kept in stock. Its service life is four times as long as an HID so it eliminates the high cost of frequent lamp or ballast replacement.
Safe in Hazardous Areas
By applying rigorous hazardous location principles, Emerson incorporated both energy-efficiency and safety in a single package. Appleton Code●Master Jr. LED luminaires are designed to provide operation in the presence of ignitable gases, vapors or dusts, such as in wastewater treatment plants, petrochemical plants and oil refineries. Meeting the National Electrical Manufacturers Association (NEMA) 3R and 4X performance criteria for enclosures, the new fixtures are equally suitable for coastal locations and other wet environments that would damage standard lighting fixtures. To fight corrosion caused by saltwater or chemicals, the fixtures have a triple coat finish electrostatically applied for uniform protection.
The Appleton Code●Master Jr. LED is shock- and vibration-resistant, plus has no electrode or filament that can be damaged, so it can be relied upon in heavy manufacturing applications. And like all Appleton LED luminaries, it contains no mercury or other dangerous substances.​
More Choices
Engineered to ensure the utmost flexibility in demanding locations, the Appleton Code●Master Jr. LED is available in models producing either 1600 or 3000 nominal lumens, which is the equivalent of 100W incandescent (50W HID) or 300W incandescent (70-100W HID), and in 5150 lumens (100-150 HID).