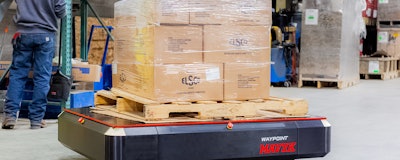 Waypoint Robotics announce the launch of MAV3K (pronounced Māy-vick), the newest member of Waypoint's industrial grade autonomous mobile robot (AMR) family. MAV3K features a 3000-pound carrying capacity and omnidirectional mobility that enables smooth and nimble movement of your heaviest materials.
MAV3K comes equipped with Waypoint's easy to use Dispatcher software allowing it to be set up and autonomously operating in under 15 minutes. MAV3K's safe and powerful batteries keep it moving through the longest workday. And Waypoint's EnZone wireless charging system enables MAV3K to charge itself, so you can forget about batteries and charging.
MAV3K's dual safety rated LiDAR sensors, three-stage safety system and superior autonomous navigation ensures MAV3K will safely find its own way from A to B so you can focus on what you do best.
"We are thrilled to offer the workforce a better tool to move large, heavy materials. We've architected our products from Day 1 with the philosophy of 'Bobby first.' Bobby is the worker who's been there for years and knows the job better than anyone," said CEO Jason Walker. "We've designed MAV3K so Bobby and workers like him can send it on missions to move the heaviest materials in his factory," he added.