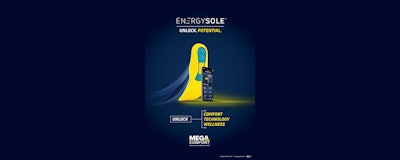 MEGAComfort is showcasing the technology behind Energysole at CES this year, with the official launch of the product to come in Spring of 2019.
Highlights
Sensors to track, measure and analyze activity up to 50 times per second. A full 3D picture of the user's foot is transmitted to an app in real-time
Highly accurate data directly from the soles of users' feet, such as movement scores, foot strike analysis, calories burned and more
Education for users on how to improve the way they move and live a healthier, more balanced lifestyle
A long-life battery that provides at least three months of continual wear with no daily charging
Monitors surface and activity types; walking, climbing vs. concrete, wooden floors, etc.