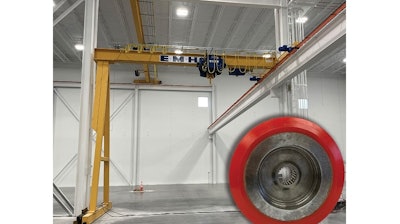 New from Engineered Material Handling (EMH; Valley City, OH), the Single Leg Semi Gantry Crane makes it easy to transfer loads between workstations, while freeing up overhead cranes to handle other tasks. With its 10-ton capacity, shop floor productivity is dramatically improved. With its exclusive poly wheel design, the need to have built-in floor rails is eliminated – reducing costs and improving floor safety.
The EMH Single Leg Semi Gantry Crane integrates the new EMH EG Hoist. With the EG Series Hoist, trolley adjustment is easier with integrated and robust staging that stays tightly together during adjustment. The EG Series Hoist is designed to have a more spacious enclosure to accommodate much larger control panels and variable frequency drives. It has capacities of 3, 5, 7.5, and 10 metric tons, and 20, 33, 50 and 65-foot lifts. EG Series Hoists are currently available in monorail and double-girder models, providing a price and performance ratio that compares favorably with the best in the industry today.
The EG Series Hoist also offers manufacturing advantages and efficiencies. Instead of having various lengths of dead end supports, there is now just one size that fits all three lift ranges, 20, 33 and 50-feet. The EG Series also offers a variety of specialized hoist options including variable frequency hoisting.
www.emhcranes.com, 330-220-8600