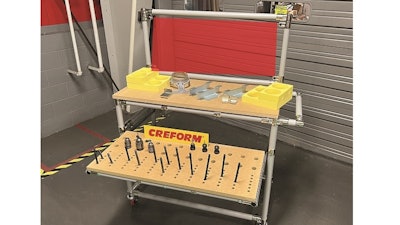 Creform Corporation (Greer, SC) has designed, built and assembled a tool exchange cart for a consumer products manufacturer. The cart is designed to optimize tool organization, accessibility and mobility within the production environment and provides an efficient solution for tool exchanges during production line changeovers or maintenance operations. Specifics include the following:
The cart, with dimensions of 46" W x 22" L x 62" H, features a work surface made of one-inch-thick wood that provides a sturdy platform for various projects.

It is also equipped with a pull-out drawer system that contains a custom fabricated wood surface. In this application, multiple sized holes were drilled to create storage locations for various sized tools.

Above the work surface is a rectangular area (see red) that allows the opportunity to mount various types of information/applications, whether it be a peg board, work instructions or tool organization.

The cart includes four total lock 4 in. casters to provide stability once the cart is in place. However, its lightweight construction, smooth rolling casters and ergonomic handle ensures easy maneuverability.

The tool exchange cart includes built-in locking mechanisms, ensuring the safe and secure transportation of tools between workstations or across the production floor. This feature helps minimize the risk of tool damage or loss.
The design that was developed provides the optimal size, configuration and tool placement as well as assembly parts and supplies. Further, the modular design allows the manufacturer to add only the accessories needed to save space.
www.creform.com, 800-839-8823