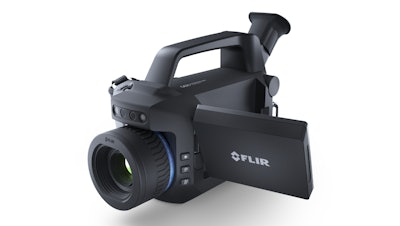 Teledyne FLIR
Teledyne FLIR (Goleta, CA) debuted the G-Series, a family of high-tech, cooled-core optical gas imaging (OGI) cameras that can help leak detection and repair (LDAR) professionals locate and document harmful gas emissions.
The G-Series is designed to empower everyday users in the oil and gas, manufacturing, steel and utility industries to spend more time prioritizing leak repairs.
The G-Series features:
Seven camera models
All camera models available with wireless connectivity
Cameras provide compatibility with third-party analysis software
Quick-swap interchangeable lenses
Teledyne FLIR engineered the FLIR G620, Gx320 and Gx620 models to detect and accurately quantify:
Hydrocarbon
Fugitive gas
Other volatile organic compounds (VOC) emissions
Teledyne FLIR also added ATEX ratings, OOOOa sensitivity compliance and an ergonomic rotatable touchscreen.
The G306 and G343 models give utility inspectors superior image quality and advanced features to detect sulfur hexafluoride and carbon dioxide, respectively, to help maintain electrical equipment.
The G346 and G304 provide an effective method to detect carbon monoxide or refrigerant leaks and potential issues that will improve safety and productivity within the plant environment.