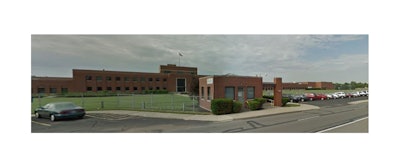 INDIANAPOLIS (AP) — In 1942, the U.S. Navy opened a secret manufacturing plant on the east side of Indianapolis to produce bombsights, devices that helped World War II pilots gauge when to release bombs.
By the early 1990s, the 1-million-square-foot facility at Arlington Avenue and East 21st Street was virtually unneeded, and the U.S. Department of Defense was slated to close the 2,300-worker plant — a fate averted by a 1996 privatization deal orchestrated by then-Mayor Stephen Goldsmith.
Following that brush with death, the plant now is run by the multibillion-dollar defense contractor Raytheon Co. It not only has survived, but has become the sole location for some key Raytheon programs, including one that's sort of a "Pimp My Ride" for old battle tanks.
The operation here — which primarily offers upkeep and modernization services — has become so important to Raytheon that the company has consolidated similar facilities into it, is investing $24 million into renovations, and plans to add a few hundred jobs in the coming years.
"I think this facility is uniquely positioned for what the military needs today," said Todd Probert, Raytheon's vice president of mission support and modernization.
"Raytheon is out there developing new missiles and new radars and that's important, too. But there's a deployed weapon-system base that the U.S. has to keep maintained so we can keep our competitive edge on the military scene. And facilities like Indy are more relevant now than they've ever been."
Raytheon has 61,000 employees worldwide and $23 billion in annual sales. It's one of the Big 5 defense contractors, along with Lockheed Martin Corp., Boeing Co., Northrup Grumman Corp. and General Dynamics Corp.
The roughly 1,000-employee Indianapolis facility falls under Raytheon's Intelligence, Information and Services Division, one of four at the suburban-Boston-based company.
The division refurbishes electronic systems worn by the rigors of military use, as well as modernizes dated components of vehicles and aircraft. It also does cybersecurity work and builds custom military solutions upon request.
Indianapolis is home to much of that work, including Raytheon's tank modernization. That program takes Army-green 1970s tanks, soups them up with new firing and control systems, and sells them by the dozen to authorized countries like Jordan.
"So, basically you take an old tank, you give it new capabilities, and you keep it relevant," said Rimas Guzulaitis, a senior director with the Intelligence, Information and Services Division.
New tanks can cost several million dollars each; retrofitting these old ones costs about a third of that, he said.
Raytheon also modernizes the cockpits of F-18 fighter jets, replacing antiquated analog controls and gauges withdigital dashboards.
As military spending becomes more measured, customers are more attracted to the idea of enhancing vehicles already in use and lacing them with technology for an increasingly digital battlefield, Raytheon officials said.
A walk through the massive plant feels like a blast from the past. Michigan Maple wooden floors_designed to mitigate shock waves from bombsight manufacturing and testing_are still abundant, stretching several hundred feet down some corridors.
And archaic signs with messages such as "TEST IN PROGRESS DO NOT ENTER" aren't hard to come by.
The site known for upgrading and renovating military systems now is getting its own makeover.
"We've partnered with the state here recently and we're going through a major face-lift to make it relevant for the future," Probert said.
Probert was referring to the deal it hashed out with the Indiana Economic Development Corp. last year to add 349 jobs by 2020 in exchange for $4.4 million in tax credits. It employed about 900 people at the time.
Raytheon consolidated similar operations in California and Virginia into the Indianapolis location as part of the agreement and plans to pump $24.4 million into interior and exterior renovations.
While the plant's employment is far below its peak of 3,000-plus, without privatization it might be shuttered today. In the early 1990s, the federal government was closing dozens of military operations under its Base Realignment and Closure program_including Fort Benjamin Harrison in Lawrence in 1991.
Before privatization, the Raytheon plant was called the Naval Air Warfare Center. It performed so-called depot work, which entailed refurbishing used military equipment like missile holders.
Realizing NAWC was on track for closure, Goldsmith, who developed a national reputation for bidding out government work, raced to avert disaster.
Larry Gigerich, who was executive assistant for economic development under Goldsmith, said city officials learned from Fort Harrison's closing that pleading with the military wouldn't work. So Goldsmith struck pre-emptively with a plan for private firms to bid to take over NAWC.
The military's experience with privatizations mostly involved government-owned, contractor-operated arrangements, Gigerich said. There was no precedent for transferring real estate and physical assets off the military's books, as the NAWC deal called for. At the time, it was the largest deal of its kind.
"It was one of the most satisfying projects that I've ever worked on, I think partly because it was so difficult to get it done and it had never been done before," said Gigerich, who is now managing director at site-selection firm Ginovus LLC.
The federal government ultimately OK'd the plan, and Hughes Electronics Corp. took over operations on Jan. 1, 1997. Raytheon bought Hughes later that year.
"We walked out of the door on a Friday as a federal employee and walked in Monday as a Hughes Aircraft employee," said Tom Lansing, a director of business development at Raytheon, who's worked at the East 21st Street plant more than two decades.
Raytheon's Indianapolis operation has emerged as an indispensable part of the company for two reasons: reduced military spending and the growing digitization of war.
After the 2011 Budget Control Act, the Defense Department cut spending and slowed its growth timetable. As a result, operations that develop new military toys haven't fared as well as those charged with maintenance and modernization.
"So that's a major thrust: modernizing our weapons systems so that data is useful for that guy or gal who has to go use it in the fight," said Probert, the Raytheon vice president. "And that's something that's happening in, at least in my lifetime, probably the most austere budget climate that I've seen for defense spending."
But the plant's technological innovation goes beyond retrofitting planes and tanks.
For instance, the facility produces augmented-reality lenses, which overlay icons and data on a fighter's field of vision. The lenses allow pilots, for instance, to see an outline of terrain while landing a helicopter despite being engulfed in a cloud of dust.
And earlier this year, the company received an honorable mention at TechPoint's Mira Awards for its Mission Data Server, which integrates disparate communication and information channels onto one platform.
"Data is becoming more of the focus, or at least as much of the focus, as the bullets and the planes and the tanks and the trucks," Probert said.
The Indianapolis location has benefited from the institutional knowledge rooted in its history, he said, and from the central Indiana talent pool.
While there might be competition from other logistics, aerospace or technology companies after the same talent, Probert said he's "not struggling with getting talent at this facility."
Gigerich is gratified by the plant's survival — and the new investment.
"I think it's just great for Indianapolis and great for the east side. If the east side would have taken a hit like it did with Fort (Harrison) and had 160 acres and couple thousand jobs go away like a normal base closure, that area of the community would have been devastated."