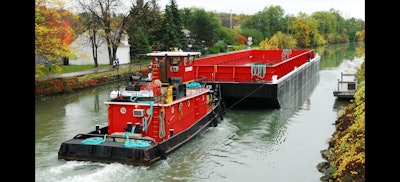 ALBANY, N.Y. (AP) — A western New York stretch of the Erie Canal will be drained and closed for several weeks while crews repair one of a series of century-old culverts built under the waterway, state officials said Friday.
The Canal Corp. announced that a 30-mile stretch between Brockport in Monroe County and Middleport in Niagara County will close June 27 so the waterway can be drained before work begins on the culvert. The site is in the Orleans County town of Murray, 25 miles west of Rochester.
Boaters are being advised to remove their vessels before June 26. Canal Corp. spokesman Shane Mahar said the agency will assist any boat owners who request help getting their vessels towed from the Erie Canal, which comprises most of the state's 450-mile canal system.
After the canal between Brockport and Middleport has been drained and repair work starts, the waterway between Middleport and Albion, just west of Murray, will be refilled with water. The 15-mile stretch from Albion to Brockport will remain empty until repairs are completed, which is expected to take several weeks, Mahar said.
The closure comes in the middle of the canal system's summertime navigation season, when local boaters and recreational mariners headed to the Great Lakes and use the waterway. Westbound mariners will be diverted to the north-flowing Oswego Canal, which empties into Lake Ontario, Mahar said.
"This is our prime time," he said. "Any type of closure for any length of time is never ideal for us."
The culvert, built in 1912, is one in a series constructed under a western stretch of the east-west waterway when the barge canal was rebuilt on raised embankments that followed the path of the original canal. The culverts were designed to allow north-south running streams to maintain their natural flow, Mahar said.
Canal maintenance workers noticed more water than usual flowing through the culvert last week. Engineers conducted an inspection and found that the culvert's timber framework had deteriorated, allowing canal water to seep through, Mahar said.
In the summer of 2012, a 20-mile stretch along the same section of canal was drained and closed for about two weeks after a canal embankment partially collapsed and a large sinkhole opened up on an adjacent road running along the waterway in Albion.