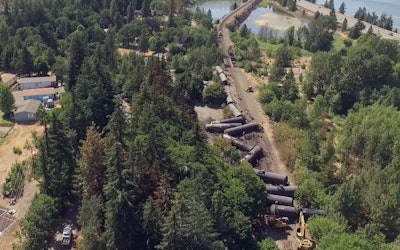 Railroad officials confirmed late last week that track failure led to the derailment of a train carrying crude oil in northern Oregon earlier this month.

Union Pacific informed the Federal Railroad Administration on Friday that at least one broken bolt on the track caused the accident, the Associated Press reported.

Prior to the official investigation, the company said that a problem with the fastener between the railroad tie and the line was likely to blame.

"We are unaware of any time when this has happened in the past," spokesman Justin Jacobs told the AP. "This is an unusual failure."

The 96-car train was traveling through the Columbia River Gorge along the Oregon-Washington border on June 3 when more than 12 cars derailed. Four caught fire and some 42,000 gallons of crude were spilled.

No one was injured, but the nearby town of Mosier was evacuated.

Union Pacific said that the reason for the failure of the bolt, which is only used on curved sections of track, remained unclear. Speed was not a factor and there was no indication of any criminal activity.

The railroad said that it ceased shipments of crude through the area and increased the number of inspections. Similar railroad bolts in the area have been replaced and the company is conducting rigorous reviews of its 23-state rail network.

Local officials, meanwhile, noted the inherent dangers of transporting heavy crude by rail through the area and said the practice should be halted.

"We have to accept that there are going to be failures in the rail system," Mosier Fire Chief Jim Appleton told the AP. "But we have to recognize that there are some risks that are unacceptable."