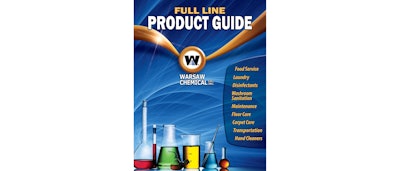 WARSAW, IN — Warsaw Chemical Co. offers a 16-page Full Line Product Guide featuring its maintenance line of products for the institutional, industrial and food service markets.
Full product descriptions and specifications are available for the company's food service, laundry, disinfectant and sanitation, maintenance, floor care and carpet, transportation and hand cleaner products. The literature also provides details on customer benefits, laboratory services and the private branding program.
Warsaw Chemical — celebrating its 75th anniversary in 2016 — offers more than 200 Warsaw Chemical brand janitorial, industrial and automotive detail products internationally and throughout the U.S.
Several products are a part of the Green Time Syste line of earth-conscious, environmentally friendly products, focusing on cleaning, health and the environment without losing product performance. Each Green Time System product offers different environmental and health benefits. Many of the hand cleaners are VOC Compliant.