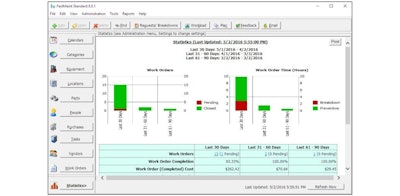 APEX, NC — SMGlobal has released FastMaint CMMS v. 8.0, a computerized maintenance management software program for equipment and facilities maintenance. FastMaint CMMS lets maintenance managers schedule both preventive maintenance and corrective maintenance work, send work orders to the maintenance staff on their mobile phones, receive feedback from the maintenance workers and track the progress of all outstanding and completed jobs. It can be used for on-site maintenance or field service management.
The software has enterprise asset management features to track equipment and facilities, inventory management, and maintain supplier records for ordering spares and equipment. FastMaint automatically schedules maintenance activities based upon dates, meter readings, emergency conditions, or any criteria that the maintenance planner specifies. It's easy to create work order templates for planned maintenance, and to deal with breakdowns and other emergencies. Users can insert pictures, and link their work orders to outside supporting documents.
New features in version 8 include support for creating and associating purchase orders with maintenance work orders, reports to compare work orders costs by maintenance tasks, enhanced find/ search, barcode support in the Web edition and more.
FastMaint CMMS is available in four editions, allowing businesses to upgrade the software as their companies grow in size and complexity. The Basic and Standard editions are designed for enterprises with a single user managing the maintenance process.