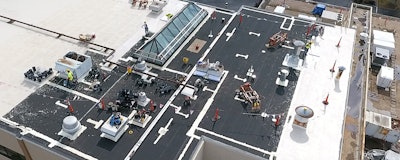 If you need to be reminded about one of your building's most expensive assets, all you have to do is look up.
A roof may represent a small percentage of an industrial building's initial construction cost, but maintaining it over the course of the building's lifetime can demand a significant amount of time and expense. Just how much time and money can depend on who you depend on.
Emergency repairs, semi-annual inspections, preventative maintenance — making the right decision about who to use and how best to maintain it requires some homework. But doing that homework can save considerable dollars in your operating budget and help you divert more capital to other building projects.
While critical attention should be put to the standard line of questioning when interviewing roofers – How long have you been in business? Are you properly licensed and insured? What is your standard and emergency response time? Do you have references? How much will the job cost? – a more sophisticated line of questioning is necessary to not only get more informative answers, but to also put the roofer on alert that you're not going to settle for less than the best.
Do You Self-Perform The Work Or Do You Use Subcontractors?
You ideally want a contractor who will perform your repair using roofers he directly employs, as opposed to using subcontractors. When the contractor is self-performing the work, you can receive proof of compliance with important requirements, such as:
Workers' compensation
General liability insurance coverage
Documentation of workers
Drug policy
Safety ratings and protocols
State licensing
Criminal background checks
If a subcontractor is used, you cannot be sure he's meeting those qualifications, and if it turns out he isn't, you could end up with legal liability.
How Experienced Are You... On My Building's Roofing System?
"How long have you been in business" is not enough. It's more important to know how well they know your particular type of roofing system. Further, ask for documentation of roofer training, ISO certifications, roofer experience and for referrals from recent customers. Historically, the vast majority of roof failures are caused by poor workmanship and material substitution from the installer, so be confident and comfortable with who you're choosing to maintain this important asset.
Can you take care of other issues while you're doing a repair?
A quality roofer will inspect the roof for other obvious repair needs while he's on the roof, saving you the time, trouble and expense of a follow-up visit at another time. It's much less expensive to take care of signs of trouble while he's on the roof addressing your current issue. This way you'll avoid travel and labor charges associated with a follow-up visit, while at the same time addressing needed repairs that could lead to leaks and consequential damage inside your building.
How Current Are You With The Latest Tools And Technology?
The roofing industry in general has been slow to adopt new technology, but contractors who stay current on technology tend to have lower costs, are more productive and efficient, and keep better schedules. Ask your contractor about the technology he uses both in the office and on the jobsite. Technology such as billing and accounting software, GPS devices in the trucks, infrared scanners, tablets and drones can help ensure consistency, objectivity, accountability and transparency.
What Will My Roof Warranty Cover? And Not Cover?
Warranties typically come with a set of manufacturer's care and maintenance instructions a facility manager has to follow to keep it viable. If they're not followed to the contractual standards, which is commonly the case, the roof no longer qualifies for the long-term warranty when a claim arises. Be sure to understand the requirements from the get-go. Further, it's not unreasonable to expect the roof (or roof repair) you pay for to last the duration of the warranty, and for the warranty to cover both workmanship and materials for the length of the term. If a contractor is hesitant to agree to these terms, it may speak to his commitment (or lack thereof) to stand behind the job.
Anthony Vross is a co-owner of Simon Roofing, a 117 year-old manufacturer and installer of commercial roofing systems with 64 service centers nationwide.