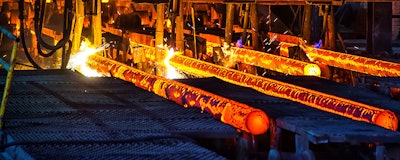 The forging industry has achieved an impressive place in the North American industrial economy by producing components with unique benefits that are difficult to duplicate. Forging, a manufacturing process of shaping metal by applying a variety of powerful compressive forces to it, is known for producing parts that feature excellent fracture toughness, ductility, as wells as both impact- and fatigue-strength.
However, delivering on those attributes also requires dealing with the extremely high heat generated during the forging process, which can reach up to 1,150 degrees C (2,102 F). For Patriot Forge, a Canadian supplier of custom open die and rolled ring forgings, controlling those high-temperature hinges on dependable cooling tower technology.
Frequently used for industrial applications such as refineries, metal foundries and manufacturing plants, cooling towers remove heat from cooling system water and exhaust it into the atmosphere.
Needing an Advanced Solution
With plants in Branford and Paris, Ontario, Patriot Forge produces products in a variety of materials ranging from carbon, alloy, stainless steel, nickel-based alloys and aluminum. Producing for demanding industries such as power generation, petrochemical, heavy-equipment manufacturers, military and aerospace requires consistent quality, including the vital hardness characteristics of forgings ranging from 5 lbs. to 50 tons.
According to Derek Hynes, Senior Mechanical Engineer at Patriot Forge, three years ago, the company decided to begin the process up replacing its aging, multi-use cooling tower, located at Building One of its Branford plant.
"The tower we were replacing was a traditional steel model that was rotting out," Hynes explains. "Also, metal models tend to rust and corrode, which usually leads to plugging the water flow—and that can interfere with cooling capacity."
This cooling tower is used to expel heat from the Building One quench system, a 42,000-gallon water tank into which parts are submerged in water or polymer baths in order to achieve the desired hardness.
Hynes and his team took the time to investigate what other cooling tower design options were available that could provide reliable, trouble-free operation for a longer period of time.
The team ultimately chose a cooling tower constructed on HDPE (high-density polyethylene) manufactured by Delta Cooling Towers, the company that originally developed the engineered plastic technology.
HDPE cooling towers are impervious to corrosive environments, and require lower amounts of expensive water treatment chemicals as well as less downtime for repair or replacement. The same manufacturer also offers models with energy-saving features such as direct drive fan motors that can drastically reduce electricity costs.
"We saw that this was a polymer-based tower that was UV-protected, and included a 20-year warranty, so we were convinced that it would offer long-term dependable service," Hynes says.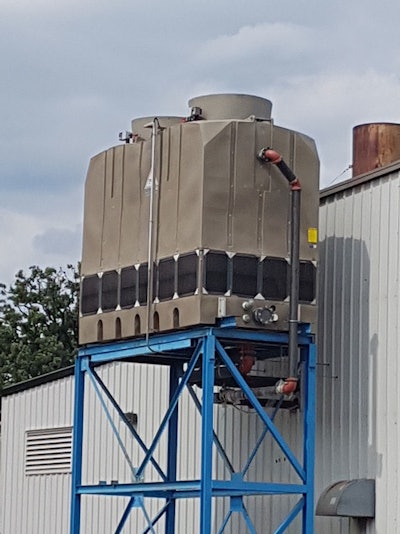 Supporting Multiple Systems
After the initial HDPE tower was successfully installed and exceeded expectations, Patriot Forge decided to acquire a second HDPE cooling tower to support hydraulic cooling for their new 5,000-ton hydraulic press, rail-bound manipulator, and hydraulic ring roller.
"This new tower needed to support multiple systems within the Building One," explains Hynes. "This included cooling the water that flowed through a heat exchanger used to draw heat off the hydraulic systems of three large pieces of production equipment, including the 5,000-ton press that plays a primary role in the forging processes of the plant."
"Essentially, all three machines are cycling the water that flows through their hot hydraulic heat exchangers and then through this cooling tower. This enables us to keep the hydraulic fluids at a stable 110 degrees (F)."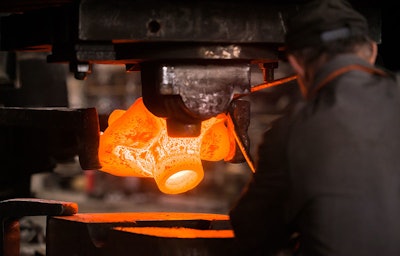 Extending the Benefits
Then earlier this year, Patriot Forge acquired an additional twin cell HDPE cooling tower to help cool the quench tanks that are part of the company's heat treat system in Building Two.
"Both of the quench tanks are 105,000 gallons, and we use the cooling towers to help maintain a heat level of approximately 100 degrees (F)", Hynes says.
The cooling towers that Patriot Forge selected for this building were the same design as the one selected as a replacement in Building One.
One of the unique benefits of the towers is the ability to configure them in combination of up to six units with cooling capacity from 250 to 2,500 cooling tons. This modular design gives companies the opportunity to conveniently add cooling towers as their processing grows. The new, cooling towers installed at Building Two are installed in a two-cell configuration with combined cooling capacity of 836 cooling tons.
"We decided on this size and configuration because the quench tanks in Building Two are much larger," says Hynes. "So, there is a lot more water you have to process through the towers."
He notes that installation of the factory-assembled cooling towers was relatively easy. "The HDPE plastic towers are lighter, so we were able to use a smaller crane to install them, which was much more convenient than having to deal with larger, bulkier cranes."
Hynes says the towers feature vibration sensors on all fans, which eliminates the need to climb the towers in order to check out the operating performance of the fans, a benefit that Hynes feels is particularly appealing because one of the towers tops out at a daunting 65 ft. – "a long way up."
Ed Sullivan is a Los Angeles based freelance writer with over 30 years of expertise in the mechanical engineering, HVAC, and process cooling industries.