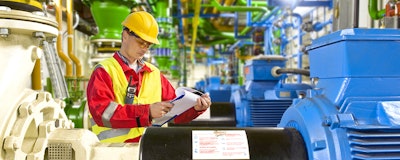 For plant maintenance managers, the mere utterance of the word "downtime" can elicit panic, excessive sweating, uncontrollable shaking and inability to articulate thoughts into words. Downtime is a recurring topic of discussion during weekly and, at times, daily production scheduling meetings. Some staff may even question why downtime occurs after a computerized maintenance management system (CMMS) has been implemented.
Most, if not all, CMMS software programs provide the opportunity to apply information to individual work orders associated with specific pieces of equipment or assets. The type of information needed by maintenance once repairs are complete usually falls under three classifications: problem, cause and remedy.
Table illustrates examples of typical coding for four respective categories

| Category | Problem | Cause | Remedy |
| --- | --- | --- | --- |
| Description | Usually defined by the production departments and typically result in very basic notifications | Most often defined by the attending maintenance technician after troubleshooting efforts. | Can be far-reaching and requires what is often referred to as "Root Cause Analysis". |
| Example | Equipment stopped. | Broken chain drive. | Check drip feed oiler for operation. |
| Example | Equipment is broken. | Burned out drive motor. | Assure that correct value fuses are in place. |
| Example | Power outage. | Fuse blown. | Resistance testing of motor needs to be performed quarterly. |
| Example | Low part output. | Incorrect speed settings. | Controls need to be locked into their speed settings. |
Placing information from these categories on individual work orders makes it possible for CMMS users to identify common issues among assets. Maintenance departments then utilize this data to concentrate on high-frequency issues.
Downtime: An Ambiguous Term
Although the term "downtime" is frequently used in the manufacturing industry, it can be defined in various ways. Below are two specific examples, which we'll refer to as "downtime 1" and "downtime 2" throughout the remainder of this article.
Downtime 1: Time during which production is stopped especially during setup for an operation or when making repairs. Source: Merriam-Webster
Downtime 2: The period of time something, such as a factory or a piece of machinery, is not in operation, especially as the result of a malfunction. Source: American Heritage Dictionary
Standard practice involves documenting the reason downtime occurs, along with specific times, in asset history. While downtime 1 issues are addressed and resolved in this manner, many organizations neglect addressing downtime 2 efficiently.
Manufacturing facilities exist in order to create specific products and it's the job of maintenance departments within those facilities to ensure successful production capacity. This is accomplished by providing well-maintained, usable and reliable assets that operate efficiently. Although downtime 2 is often attributed to maintenance, it's the responsibility of the facility as a whole to address the issue as it relates to impacting profitability.
Downtime Tracking
Work orders typically provide an opportunity to record downtime in minutes, hours or days. In many cases, however, these opportunities only allow one entry. Downtime could be the result of two or more departments or individuals. To ensure downtime 1 is sufficiently addressed, CMMS programs should allow for multiple entries of problems, causes and remedies on one work order. Likewise, CMMS programs can accommodate multiple causes for downtime 2.
Suggested entries for downtime 2 include:
Awaiting parts
Stock outage
Manpower shortage
Reinstruct operators
Modify equipment
Replace equipment
Production planning errors
Production scheduling errors
Lubrication analysis
Reinstruct maintenance personnel
Incorrect parts used
Other
When selecting the "other" category, users should include a comment that describes the cause. Periodically, management should review comments to determine if a new category should be added to address recurring issues found in the 'other' category.
Bottom Line
It's imperative to review all recorded downtime and seek corrective actions to prevent reoccurrence. This can be accomplished by routinely generating reports for downtime causes from within your CMMS software. This effort must be driven organizationally from the top down, with all individuals held accountable. Each person within an organization owns this lost opportunity and should take preventive measures to eliminate downtime causes. Remember: Equipment/Asset capacity (availability) is productivity, which equals profitability.
Robert Brieck is a Professional Services Consultant for DPSI, a computerized maintenance management system (CMMS) software provider. He has over 40 years of experience as a Senior Level Maintenance Administrator at a number of organizations, most recently with the Community College of Allegheny County. He has also worked as an instructor for both public and private institutions.