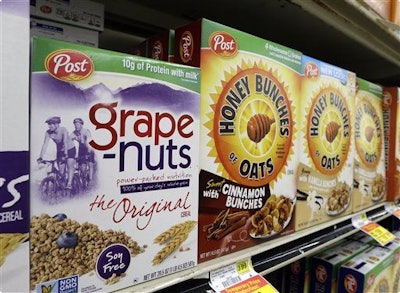 St. Louis — Post Holdings Inc. said Friday it will merge two of its cereal businesses, headquarter them in Minnesota and close a New Jersey office as it separately grapples with a widening bird flu outbreak that has forced it to discontinue some products and tweak prices.
Brad Harper, a spokesman for St. Louis-based Post Holdings, said the bulk of the roughly 200 affected employees will be those in the Parsippany, New Jersey, office that the company plans to shutter within a year. The merged operations will be based in Lakeville, Minnesota, which is already home to Post's newly acquired MOM Brands cereal.
Post, maker of cereal brands including Honey Bunches of Oats and Grape Nuts, expects to incur pre-tax expenses of $27 million to $30 million in employee severance, retention and relocation payments. The company said consolidating its Post and MOM Brands cereal business into the entity that will be called Post Consumer Brands will save about $50 million.
MOM Brands makes ready-to-eat cereals and oatmeal and hot wheat products, including Malt-O-Meal.
"We are acutely aware of the contributions made by employees negatively impacted by this decision, and we are committed to helping them through this transition," Rob Vitale, Post Holdings' President and CEO, said in a statement.
Friday's announcement came a day after Post Holdings revealed that an outbreak of bird flu is squeezing its egg supply, forcing the company to discontinue some product lines and take "appropriate pricing actions."
Post Holdings said the financial impact of the bird flu's effect on the company's egg supply still was being estimated. Harper said he assumes any disruption of product lines will be temporary and that "as the supply comes back, we would get back in the business."
"Everything is really fluid right now," he said.
Post said the avian influenza scourge has affected one quarter of its Michael Foods egg supply — up from 14 percent last week — after a second company-owned chicken flock in Nebraska tested positive for the H5N2 virus.