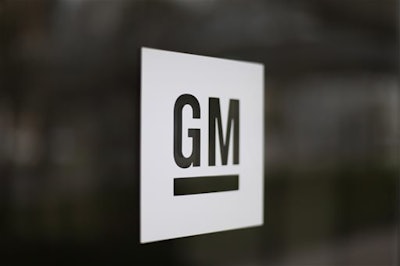 Detroit, Michigan — A General Motors stockholder representing four investment funds has told the company he'll seek a seat on its board at the annual meeting this summer and will push for an $8 billion stock buyback to take place by next year.
Harry Wilson, a former hedge fund manager and one-time member of the Obama administration task force that helped to restructure GM and Chrysler in 2009, disclosed his plans in a meeting with GM CEO Mary Barra on Feb. 3.
The company revealed them in a statement issued Tuesday morning and said its board will evaluate the proposals through its normal committee process. A date for GM's annual meeting has not been set, but it normally takes place in June at the company's headquarters in Detroit.
Wilson, according to the GM statement, represents Taconic Parties, Appaloosa Parties, HG Vora Parties and Hayman Parties, which together own 34.4 million GM common shares, or 2.1 percent of the company.
GM said that Wilson's notice to the company about the proposal shows he'll get a percentage of the group's profits from its investment in the Detroit automaker. As of a Feb. 9 notice to General Motors, Wilson himself owned 100 shares of GM.
Wilson, 43, of Scarsdale, New York, is seeking the board seat and stock buyback because he believes GM's stock is undervalued and the automaker is "substantially overcapitalized," according to his notice letter to GM. The share repurchase will create shareholder value, the notice said.
GM, which posted a $2.8 billion profit last year despite massive recall costs, ended the year with $25.2 billion in cash available.
Company executives often talk about returning some of that cash to shareholders. But in addition, GM executives have repeatedly said they want to maintain a "fortress balance sheet" so they have enough cash to weather an economic downturn such as the Great Recession, which sent the company into bankruptcy protection.
GM restored its quarterly dividend in January of 2014 for the first time in six years. Last week the company announced it would raise the dividend 20 percent in the second quarter to 36 cents, pending board approval. The chief financial officer said the dividend could go even higher once GM gets a better handle on recall costs.
Wilson worked at four different financial firms including Goldman Sachs. He ran unsuccessfully for New York state comptroller as a Republican in 2010.
He requested the meeting with Barra "for other purposes," according to GM's statement, and didn't disclose the identities of his group members until submitting the notice just before the deadline Feb. 9, the company's statement said. GM, the statement said, has had contact with the investors since it released fourth-quarter and full-year earnings on Feb. 4, and they did not show any interest in nominating candidates for the board.
The board and management have "demonstrated their ongoing commitment to return value to shareholders" through the dividends and the 2012 repurchase of $5.5 billion in stock held by the U.S. government, the statement said.
Wilson did not immediately return a telephone message left Tuesday morning.
Shares of GM rose 86 cents, or 2.4 percent, to 36.86 in morning trading. They have traded from $28.82 to $38.15 in the past year.