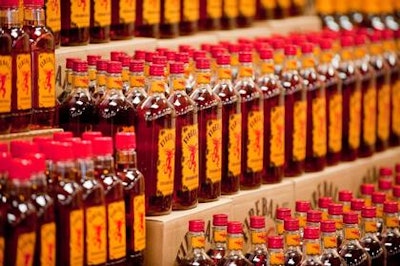 The owner of Fireball Cinnamon Whisky is suing a North Carolina brewery over a "confusingly similar" label.
Louisiana-based Sazerac Company alleged in federal court in Kentucky that Stout Brewing Co.'s Fire Flask malt specialty beer infringes on the trademarks and trade dress of Fireball, whose dramatic growth sparked a wave of cinnamon-flavored liqueurs across the U.S.
Fireball's label features a red, dragon-like creature, while Fire Flask, a malt beverage introduced in June, displays a glaring red devil in front of two pitchforks.
"On information and belief, defendant chose its Fire Flask mark and packaging to exploit and trade on the longstanding goodwill, reputation, and success of Sazerac's Fireball product and to create a likelihood of consumer confusion in the marketplace," Sazerac attorneys alleged in the complaint.
The complaint asked the court to ban the use of the similar name and packaging, award damages, fees and profits from the sale of Fire Flask and cancel Stout's trademark registration.
Sazerac previously sued an Oregon distiller over its cinnamon liqueur in 2012.