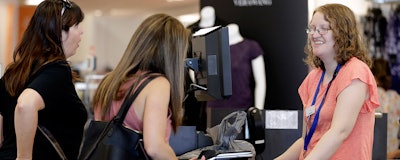 WASHINGTON — U.S. consumer spending edged up a moderate 0.3 percent in August, the smallest gain in six months, as sales of cars and other durable goods fell. A key gauge of inflation slowed slightly after its biggest annual gain in six years.
The rise in spending was the weakest since a 0.1 percent bump in February, the Commerce Department reported Friday. Spending had been up 0.4 percent in both June and July. Consumer spending is closely watched because it accounts for two-thirds of economic activity.
The government reported Thursday that the overall economy, as measured by the gross domestic product, grew at an annual rate of 4.2 percent in the April-June quarter, the best in nearly four years. However, GDP is expected to slow in the current quarter to around 3.2 percent.
An inflation gauge closely watched by the Federal Reserve edged up 0.1 percent in August, a tiny gain which left prices rising 2.2 percent over the past 12 months, down from a 2.3 percent 12-month rise in July which had been the fastest pace in six years.
The inflation slowdown will be welcomed at the Federal Reserve which raised its policy interest rate for an eighth time on Wednesday as it tries to make sure that unemployment which has fallen to near a 50-year low does not trigger unwanted inflation.
Core inflation, which excludes energy and food, was up 2 percent for the 12-months ending in August. It has been at that level for the last 12 months. The Fed's goal is to keep inflation at a 2 percent annual gain.
The spending report showed that purchases of durable goods, a category that includes autos, fell by 0.1 percent in August which held back overall spending. Purchases of nondurable goods rose a sharp 0.5 percent, an increase that reflected in part rising gas prices, while purchases of services rose 0.4 percent.
Incomes, which provide the fuel for future spending, were up a modest 0.3 percent for a second straight month although wages and salaries, the key component of incomes, rose a strong 0.5 percent, the best showing since January.
The saving rate in August was unchanged at 6.6 percent of disposable income.