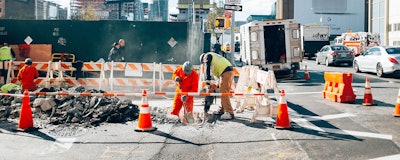 Hispanic workers currently make up 16 percent of the overall U.S. labor market. By 2025, an estimated one out of every two new workers entering the workforce will be Hispanic.
Companies must deploy a focused digital strategy to keep pace and reach this growing demographic in the workplace. Implementing a smart online approach can position your company to attract and retain talented Hispanic staff.
Here are three important considerations to keep in mind.
Understand How U.S. Hispanics Engage Online
U.S. Hispanics, especially millennials, are technically savvy, mobile-first, socially-driven and eager to succeed.
They're usually comfortable engaging with both English and Spanish content online, but are also committed to preserving Spanish for future generations. Providing digital properties in both languages and across multiple online channels is important to capturing the attention and long-term trust of these savvy and connected employees.
Deploy Robust Spanish-Language Digital Content to Attract and Engage Hispanic Employees
Put your best foot forward with Hispanic audiences by providing a satisfying online user experience that supports their journey from prospective job seeker to hired employee.
First, fully translate your careers page into Spanish, as well as the career descriptions you send to job boards and other career sites where prospective talent may be searching for their next roles.
Also, ensure your career opportunities perform well in Spanish-language web searches by optimizing your site for search engines. Translating and localizing career-related keywords, structured data and metadata can significantly drive up organic traffic, enhance on-site engagement, improve search rankings, boost brand visibility and improve click-through rates.
And don't forget to leverage social media platforms such as Facebook and Twitter with Spanish-language content. U.S. Hispanics often rely heavily on personal connections and word-of-mouth during their search for employment. A strong Spanish-language social media presence can help you engage with prospective employees on the platforms they use most and encourage sharing, dialogue and conversation. Companies that offer a fully immersive Spanish language experience for their talent acquisition efforts gain far more engagement from Hispanic job seekers.
Engage Your Current Hispanic Employees, Too
Hispanic employees typically demonstrate high levels of commitment and may become part of your sales organization without even asking. They like to promote the brand they work for and feel proud of what they do. You can empower these "brand ambassadors" by building an inclusive corporate culture that helps attract and retain Hispanic employees.
Do this by translating internal employee content, not just marketing content. Include both frequently-used offline documents and digital content across the corporate intranet to give Hispanic employees easy, bilingual access to relevant, enterprise-wide, people-themed assets.
But don't stop with translation. Be sure to optimize internal sites and technologies for Spanish-language mobile use.
According to the CMSWire 2017 State of the Digital Workplace Report, 70 percent of respondents said that mobile enablement was a "very" important tool in enabling their work. And the number is likely higher among Hispanics, who are mobile "power users." Mobile-friendly Spanish-language content is essential for maintaining strong employee morale among Hispanic employees.
Conclusion
As the Hispanic workforce continues to grow, companies should consider how they're catering to this unique audience and look for ways to engage them digitally.
Are you attracting potential employees by providing careers content in Spanish? Is your intranet translated and accessible on mobile so Spanish-speaking employees can engage easily? Are you empowering your Hispanic sales staff—and their customers—with a localized website?
Implementing these changes can help ensure that your business attracts and retains the best Hispanic talent.
Craig Witt is Executive Vice President: Global Sales, Marketing and Go-To-Market at MotionPoint.