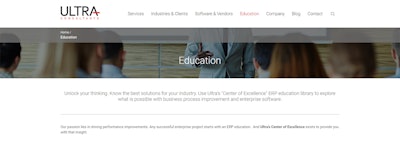 CHICAGO — Ultra Consultants, Inc., an independent research and enterprise solutions consulting firm serving the manufacturing and distribution industries, announced the launch of its Center of Excellence. Located at https://ultraconsultants.com/centerofexcellence, the Center of Excellence provides clients educational resources and best practices about effective selection and deployment of enterprise technology and the tools required to choose the right solution.
Manufacturing and distribution project teams are faced with a bewildering array of enterprise technology solutions and a time-consuming challenge of determining the best processes to achieve an efficient, optimally functioning enterprise that fully leverages the advantages provided by technology.
The Center of Excellence supports organizations by providing solutions for vertical industries such as automotive, food and beverage, pharmaceuticals and others. Market-specific information is based on decades of experience helping manufacturers and distributors select and implement the right solution for their unique needs. Project teams will be able to review best practices for niche market segments and benefit from Ultra's collective experience in serving clients.
"Selecting the proper technology solution requires a careful analysis of the company's needs and a thoughtful picture of its desired future state," stated Ultra Consultants Center of Excellence Director Andrew Bolivar. "The Center of Excellence helps cut through the marketing verbiage and enable users to thoroughly understand the benefits and potential pitfalls of different approaches. The collective experience of our team of consultants will help companies maximize the benefits of their investment in technology."
"The Center of Excellence is another useful tool in our arsenal to help manufacturers and distributors determine the most effective technology solution for their enterprise," said Ultra Consultants CEO and Founder Jeff Carr. "Our shared legacy of providing critical selection and deployment insight assists companies in operating more efficiently and rapidly achieving ROI."