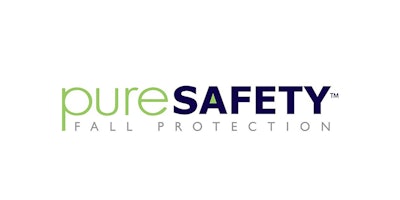 HOUSTON — The world's largest provider dedicated to height safety equipment and services Pure Safety Group (PSG), has opened the doors to its 33,000-square-foot corporate headquarters office and global training facility this month in conjunction with the National Safety Congress (NSC) in Houston, Texas.
The office is home to the U.S. PSG leadership team. The training facility, the largest dedicated to height safety in the industry, features the new PSG training program, the most current curriculum in the industry that includes simulations on 12 structures in a 22,000-square-foot indoor environment for hands-on, real-time application of classroom learning. The training incorporates OSHA and ANSI standards information, which is aligned with PSG's recent commitment to 100 percent compliance with ANSI voluntary standards in the manufacture of its products. Students graduate from the program as certified competent persons for job site inspections and authorizations of fall safety equipment. The Houston training facility is in addition to the company's U.K.-based training program, which it acquired as part of the PSG purchase of Checkmate Lifting & Safety company in June 2018.
"PSG is focused on advancing fall protection by pushing ourselves and the industry to get smarter, every day, in the ways in which we keep workers safest at height. As we chose a new headquarters for PSG it was important for us to have a space where we were interacting with our customers, learning alongside of them and surrounded by the types of environments they encounter daily, so that we can use those factors to drive us to a common goal," stated Brad Gates, PSG chief executive officer.
"We've designed an environment where learners can immediately apply new knowledge in current context to return to the job site and boost team performance and reduce risk. This has a profound impact on the health and well-being of workers and the company's bottom line," said Carlos Calderón, PSG vice president of services, who oversees training and the company's Engineered Services Group, which designs fall protection systems from the products of PSG brands Checkmate, Guardian Fall Protection, Ty-Flot and Web Devices.
The PSG curriculum creators envisioned an endless variety of height safety scenarios from multiple industries for trainees to experience, based on research that indicates a significantly higher retention rate from hands-on training over classroom training alone. Instruction was designed to produce certain results based on behaviors and decisions that participants make during real-world simulations. The experiential approach deepens the level of engagement and personal investment by learners and allows them to use their own critical thinking and problem-solving skills, far beyond compliance to meet minimum equipment usage standards.
The indoor structures at the new training center include three towers and connecting beams for general safety training, three communication tower simulations, a rebar wall triangle climbing structure, confined space environments, a rope access structure, a crane boom and cap with a swing stage, and a roof platform. The facility also features two large classrooms, a break area, and a locker room with showers.
"Our goal was to bring the content alive," said Gates. "There was a need in the fall protection market for an innovative training approach, given constantly changing work scenarios and macro trends affecting the industries we serve. From our customers' need to differentiate themselves through training that engages, especially in the tough recruitment market, to the need to quickly and effectively get a new worker up to speed."
The PSG training team includes Doug Boehm, from Guardian Fall Protection; Mel Ezzo, former Safety Director for the Columbus Zoo; Jason Pyle, a tenured safety professional in the oil and gas industry; and Peter McDowell, a training innovator who can train in multiple languages. Riley Thurman schedules the facility and coordinates private and online learning, and mobile training at job sites. Arissa Mendiola leads training sales, matching training programs to customer needs.