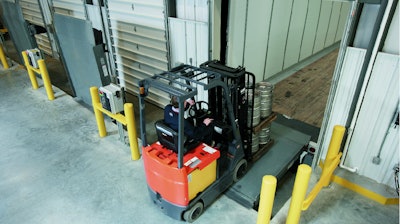 Rite-Hite
Loading docks are one of the most essential parts of any supply chain—and one of the most dangerous. Typically among the busiest areas in any industrial facility, they are filled with heavy machinery like forklifts, pallet jacks, and AGVs briskly moving cargo between semi-truck trailers and holding areas, putting nearby workers at risk. The growth of e-commerce has only exacerbated this problem, as ever-shorter delivery times have quickened the pace of fulfillment operations.
It's no wonder that a disproportionate number of industrial accidents take place in these areas. The numbers are staggering.
Per Industrial Safety & Hygiene News, more than 25 percent of all industrial accidents happen at the loading dock, and for every accident, there are about 600 near misses. Between worker's comp, product/equipment damage and downtime, loading dock accidents cost companies an estimated $675 million every year, with the average cost of a worker injury coming in at about $189,000 (source: Environmental Health & Safety).
Fortunately, with proper safety precautions, warehouses and DCs can avoid most of these accidents and their associated costs. Facility managers that invest in leading-edge loading dock equipment and technologies can help reduce risks and ensure employees return home safely at the end of every shift.
Advanced Hydraulic Levelers
Loading dock levelers need to withstand forklifts weighing upwards of 10,000 lbs. (without product) moving across them into a semi-trailer hundreds of times a day. To be that durable, levelers must be heavy, too.
Operating such levelers manually via a pull-chain is physically challenging at best and can be downright dangerous at worst. "Push-button" hydraulic loading dock levelers present facilities a safer and more ergonomic option, as they can be operated without bending or lifting, and have rapid free-fall prevention features.
Levelers that offer a smooth transition from facility floor to leveler to trailer and back are also preferable, since the "dock shock" caused to forklift drivers by bouncing across poorly designed levelers can result in chronic spinal injuries and other physical problems – not to mention damaging forklifts or breaking the products they are moving.
Self-flexing decks have been another important step forward in ergonomic leveler design. Self-flexing decks help the forklift driver to safely navigate uneven trailer loads, as the hydraulic dock leveler flexes up to 4" under its own weight to bring it to parallel with the trailer bed floor.
Interlocking Dock Controls
Given the current labor shortage, plant managers are more worried than ever about inexperienced workers incorrectly operating equipment. Fortunately, the development of programmable, interlocking controls has been another safety game-changer. These controls can be programmed to work only when the vehicle restraint, loading dock leveler, overhead dock door and dock barrier are used in a safe sequence of operations, thus helping prevent incorrect operation – and potentially catastrophic accidents.
This safe sequence of operation begins with the vehicle restraint; in it, the hydraulic leveler and overhead door cannot be activated until the vehicle restraint has achieved safe engagement of the trailer's RIG or wheel. Once that is accomplished, the overhead door can go up, the safety barrier can be retracted, and the leveler can be lowered into the trailer.
Motion Sensors and LEDs
Communication between truck drivers and the dockworkers loading or unloading their trucks is a primary consideration in any warehouse safety protocol. While red/green interior and exterior dock lights have become standard tools to achieve that communication, facilities are now using enhanced sensor and LED technology to take it to the next level.
Outside the dock opening, from a fixed location above the dock door, a new safety system using motion sensors can detect the motion of a tractor-trailer backing into a dock position. That movement triggers a visual and audible alarm (which can be embedded in the vehicle restraint or operate as a standalone) to alert dock workers and pedestrians in the drive approach of the impending danger.
Similar technology is available inside the dock area. There, a sensor detecting motion inside a secured trailer will emit a bright blue light onto the section of leveler outside the opening. This system can work in conjunction with the vehicle restraint to alert dock workers or forklift operators if they enter an unsecured trailer and can prevent unlocking of the trailer when inside motion detected.
In this scenario, the blue light flickers as an audible alarm alerts the unsuspecting employee that they've entered an unsecured trailer, while the external light system simultaneously changes to red, warning the truck driver that there is activity inside the trailer.
Shipping and receiving areas have only become busier, more congested – and more inherently dangerous – with the growth of e-commerce. Fortunately, the new generation of loading dock safety equipment can help keep workers safer and more productive.
When industrial facilities invest in advanced loading dock equipment, such as hydraulic levelers or motion-sensor based light communications systems, they are investing in the health and safety of their employees. While cost may be an initial hurdle to safety upgrades for some facilities, many of the leading loading dock products available are offered as standalone options or can be added as retrofit, thus providing facilities with an incremental, budget-friendly equipment integration option.
From push-button operation and interlocked equipment to sensor-based audio/visual safety warning systems, these solutions can help improve safety, worker satisfaction and throughput for any loading dock operation.
Joe Ellestad is the director of customer relations & sales support at Rite-Hite. A graduate of Winona State University, he has a broad background in the materials handling and logistics industry, including experience as a field service representative.