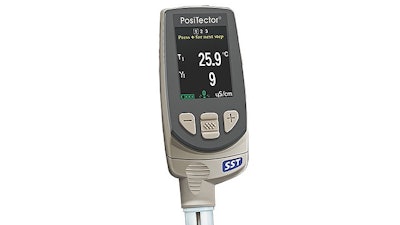 Paul N. Gardner USA (Columbia, MA) – worldwide distributors, producers, and designers of quality physical and inspection instruments for the paint, coatings, and related industries – introduces a new offering:
The Positector SST Soluble Salt Tester measures the concentration of soluble salts (salt contamination) on metal surfaces in accordance with ISO 8502-6, 8502-9. The gage also features an onscreen interface that guides users through the Bresle test method. The automatic storage of a background (blank) measurement comes in handy when performing multiple tests. The unit displays test duration, sample temperature, conductivity (µS/cm) and surface density (mg/m2 or µg/cm2).
Durable
Solvent, acid, oil, water and dust resistant - weatherproof

Shock-absorbing, protective rubber holster with belt clip

Two year warranty on gage body and probe
Accurate
Long Form Certificate of Calibration showing traceability to NIST included

Certified conductivity standard (calibration solution) to verify probe accuracy, Certificate included

Automatic temperature normalization and sample temperature reporting

Conforms to national and international standards including ISO, NACE, SSPC, IMO and US Navy
Versatile
PosiTector body accepts all PosiTector SST, 6000 III, 200, RTR, SPG, DPM, SHD and UTG probes easily converting from a soluble salt tester to a coating thickness gage, surface profile gage, dew point meter, Shore hardness durometer or ultrasonic wall thickness gage.