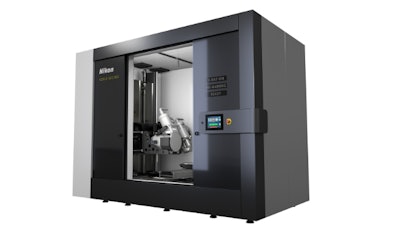 Nikon
Nikon Corporation (Melville, NY) announced the launch of the large-volume high-performance X-ray and CT Systems VOXLS 40 C 450.
Product features:
Realizes non-destructive inspection of various components, from small to large
Uses X-ray and CT function to implement high-accuracy measurement, confirmation of internal shapes and defect analysis
Supports innovative manufacturing such as the production of lithium-ion battery individual cells and modules of electric vehicles (EV), for which demand is expected to increase, in addition to automotive and aerospace parts.
Height of 1,415 mm
Diameter of 800 mm
Can mount two X-ray sources and supports a wide range of applications, from manufacturers to research institutions
Nikon decided to use VOXLS (Volumetric X-ray Leading Solutions) as the unified brand name for its X-ray and CT Systems. VOXLS 40 C 450 will be the first product using new brand name.
Nikon plans to work with Avonix to expand the product lineup, in order to contribute to the manufacturing innovation of customers both at home and abroad.