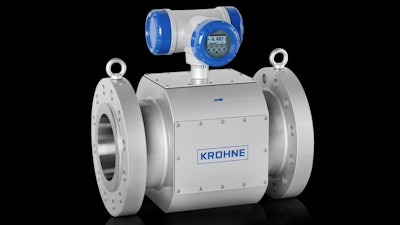 KROHNE
KROHNE, Inc. (Beverly, MA) showcased process instrumentation for the oil and gas industry at the American School of Gas Measurement Technology (ASGMT), September 19-22, 2022, at the Marriott Westchase Hotel in Houston, Texas.
Featured KROHNE equipment included:
ALTOSONIC V12 ultrasonic flowmeter for Gas Custody Transfer measurement ideal for custody transfer applications.
OPTIMASS 6400 twin bent tube Coriolis mass flowmeter ideal for process industries and specialist applications like LNG, CNG or supercritical gases in terminal or storage/bunkering, along with custody transfer applications.
The ALTOSONIC V12 features include:
12 measuring chords, two of which are solely dedicated to diagnostic functions.
Positioning of the chords in five horizontal parallel planes to compensate for swirl and provides reliable measurements.
Diagnostics that can reliably assess deposits, contamination or changes in wall roughness.
The OPTIMASS 6400 features:
Entrained Gas Management (EGM)
Approval for custody transfers of both liquids and gases
KROHNE also displayed and demoed:
Pipeline Leak Detection Software Solutions PipePatrol
KROHNE Next Generation Flow Computer Summit 8800