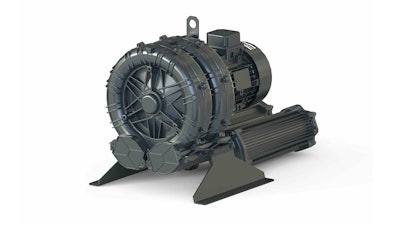 Atlas Copco (Rock Hill, SC) is expanding its comprehensive vacuum pump portfolio with the side channel blowers DB series. Side channel blowers are designed for applications where high flow rates are required. This makes the dry rough vacuum of the DB models suitable for rough industrial processes - such as drying, pneumatic conveying or suction processes. The modular design ensures high efficiency, reliable performance and quiet operation.
Depending on the required vacuum performance, Atlas Copco offers the DB series in single-stage and two-stage versions, optionally with one impeller or twin impellers each. Advantages include:
Non-contact, oil-free operating principle prevents oil and dust contamination.

Suitable for global installations.

Wide range of voltages and frequencies available from 50 and 60 Hz.

Housed in closed aluminum enclosure.

Virtually maintenance free.

Low noise thanks to effective blade design.