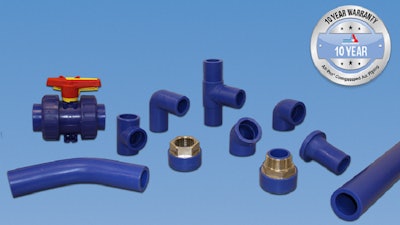 Asahi/America, Inc. (Lawrence, MA) announces that Air-Pro specially formulated PE compressed air piping system now offers a 10-year warranty. Specifically:
Air-Pro

is certified by NSF to meet California OSHA Impact and Pressure test requirements to conform to the State of California's Unfired Pressure Vessel Safety Order Appendix C requiring sharp and blunt impact testing at 32° F.

Air-Pro is available up to 4" (110mm) in blue colored piping for 230psi applications and black colored piping up to 12" for 150psi applications at ambient temperature.

Since 1992, the piping system has been made from specially formulated polyethylene (PE) resin, which has antioxidant properties that can withstand the demanding application of compressed air.

Air-Pro's thermoplastic material is also resistant to compressor lubricants and atmospheric corrosion from chemicals or marine environments.
www.asahi-america.com, 800-343-3618