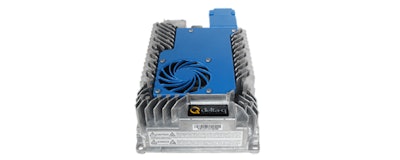 Delta-Q Technologies (Delta-Q) announced the addition of a 1000-watt battery charger to its RC Series for use in battery-powered floor care machines, the RC1000.
Delta-Q's RC Series includes the RC900 , RC1200 and now the RC1000. The RC1000 is a high-frequency charging solution capable of charging both lead-acid and lithium-ion batteries. The new charger also offers Controller Area Network (CAN bus) communications for seamless machine integration.
Designed with floor care and maintenance original equipment manufacturers in mind, the RC1000 is suitable for use in battery-powered scrubbers, sweepers, and burnishers. Similar to its family series, the RC1000 has an IP66-rated ingress protection to seal out dirt and fluids, while its mechanical design and component selection resists vibration, shock and temperature extremes.
"Delta-Q continues to evolve our product lines to provide the best charging solutions for our customers. The inclusion of the RC1000 was a natural step to provide our floor care customers with the products needed to meet their demand," said Trent Punnett, vice president of sales, marketing, and product management at Delta-Q Technologies.
Delta-Q's products provide premium "charge quality" for lithium-ion and lead acid batteries using charge profiles developed in Delta-Q's battery lab. These high-performance profiles balance battery life, longevity and charge time requirements. Delta-Q has commercialized more than 200 charge profiles, ensuring that users experience better performance and battery life for their battery pack choices.