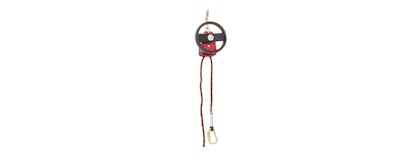 HOUSTON, TX — The biggest news in the fall protection industry this year was the ascent of Pure Safety Group (PSG) to become the largest dedicated provider of height safety equipment and services in the world. In just 10 months, PSG acquired four leading companies: Web Devices, Guardian Fall Protection, Checkmate and Ty-Flot.
At the 2018 National Safety Congress (NSC) trade show in Houston, the company launched as the PSG brand, a family of the combined company brands and harmonized product lines. PSG is also opening the doors to its global headquarters and the world's largest height safety training center in Houston and reclassifying its product lines by professional and high performance categories.
Harnesses
Checkmate Vantage X high-performance harness – Ground-breaking high performance harness with many patent pending industry "firsts." One-piece design front cam buckle adjuster has an integrated chest strap and connector, which improves functionality and reduces weight while increasing strength and durability. Features pioneering new Dial D technology with Control D Ring that is user adjusted for easy connection of auxiliary equipment at just the twist of a dial.
The dorsal "D" automatically returns to the home position when the user is not connecting a device. Any excess webbing is neatly rolled and tethered back via a unique "Roll n Lock" system.
Guardian professional harnesses Series 1, 3, 5 — Series 1 features new rubber web keepers, Series 3 also includes core indicating webbing and dual SRL connectors, and Series 5 also adds coated, forged steel hardware and deluxe shoulder and waist padding.
Rescue and Confined Space Products
Checkmate MAX 300 Descender -- The most versatile constant rate descender on the market with models for both automatic hands-free operation and multiple descents with advanced rescue functionality, as well as a power-assisted option with Checkmate approved drill. The patented MAX 300 is a multiple user device designed to be used attached to the anchor point in regular or inverted mode of operation and is completely symmetrical, allowing full use of all functions regardless of the direction the MAX is running. Full functionality for descent or rescue.
Checkmate FABXRA and FABXLRA SRLs – Self-retracting lifelines that can also raise or lower a fallen worker for an emergency rescue and attach to Checkmate tripods.
Checkmate WG-01 Winch – Personal winch that can also be used for material lifting.
Checkmate TR3 Tripod -- Ultra lightweight load-bearing tripod used primarily as PPE for access or fall protection in confined space environments. Offers anchorage for suspended work or a secure fall arrest point when accessing via alternative means such as a ladder.
Single retracting lifelines (SRLs)
Checkmate ATOM SRLS -- The most innovative line of SRLs in the industry that includes the 6-foot ATOM-X HW, which is the smallest and lightest fall arrest block in the world. Uses acceleration instead of velocity for quicker breaking and more stopping power. Other new ATOM SRLs include the ATOM-Edge 8' cable for leading edge applications.
Ty-Flot Dropped Objects Prevention Products
13 new products in the Ty-Flot product range, now available through the PSG distribution network that boasts 88 patents and 40 patents pending. New products include cinch hoops, heat shrink attachments for ball pins, dual tie offs, tether-ready tools, shock absorbing tethers, part pouches with tethers, shoulder harnesses for meters, scaffold worker belts, hang loops, bucket holders, HRC clips, embossed natural floating ties and tether-ready pens.
"We're excited about the depth and breadth of the entire PSG product line," said Oliver Auston, chief innovation officer at PSG. "These products have been designed based on significant input from safety managers and workers at height. Customer centricity is at the core of everything we do at PSG – we are out to be the easiest company to do business with in the industry."