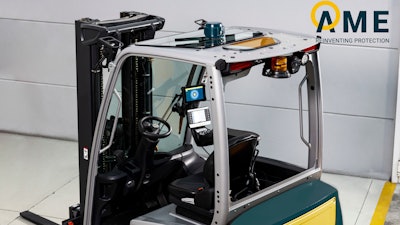 Advanced Microwave Engineering
Advanced Microwave Engineering (AME) (Firenze, Italy) launched 'AMESPHERE,' a proprietary platform delivered as a service that revolutionizes the way companies deal with safety in complex work environments.
AMESPHERE features:
Vehicle/person and vehicle/vehicle collision avoidance
Real-time

data collection and processing

Objective and qualitative analysis

of safety and efficiency

Subscription and cloud-based solution
Local Positioning System (LPS) technology
The AMESPHERE system is formed of three devices interconnected via Bluetooth:
AMESPHERE KEY - sensor at the technological basis of the whole system, detecting all data which are transferred to AMESPHERE TABLET
AMESPHERE TABLET

- provides user interface and connects the system to AMESPHERE platform

AMESPHERE TAG

- wearable device worn by workers, which is detected in real-time by AMESPHERE KEY
Using a cloud platform, the system continuously collects data, processes and analyzes them and presents results on intuitive dashboards.
Based on the data collected, the platform derives an index of safety and operational efficiency of the work environment, termed Efficiency & Safety Indicator (ESI).
As a cloud-based solution, the AMESPHERE platform allows for the possibility of extending data analysis to individual operators in the industrial plant.