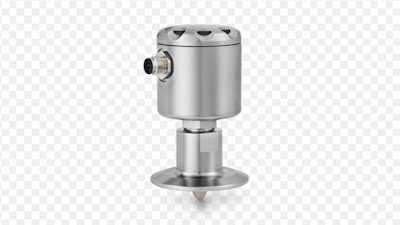 KROHNE, Inc.
KROHNE, Inc. (Beverly, MA) announced its OPTISWITCH 6500 to the food and beverage industries. This capacitance level switch provides a minimally invasive solution for point level detection of liquids, liquid-liquid interfaces, and solids.
Features:
Variety of available hygienic process connections
Unaffected by foam, condensate or build-up
Can be set to detect foam or changes in media characteristics of same liquid
Resistant to CIP and SIP agents
Can be installed in any position, maintenance-free
Block prevention, overflow protection, dry-run and pump protection in tanks
Fully compliant with FDA and EC1935/2004
EHEDG and 3A certified
Typical applications of the OPTISWITCH 6500 range from small tanks in hygienic applications to tanks with tough, pasty, or strongly adhesive media. A range of detections, from interface detection to high and low-level detection to detection of foam, are all achievable with this hygienic switch.