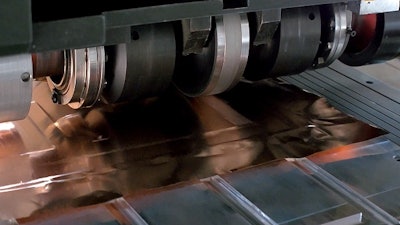 Fabrisonic
Fabrisonic LLC (Columbus, Ohio), a manufacturer of Ultrasonic Additive Manufacturing machines (UAM) and 3D metal printing, developed the SonicLayer X̅ seam welder. The SonicLayer X̅ has twice the power of current market seam welders.
Up to 250 inches per minute

Up to 0.040 inch (1mm)

Capable of Aluminum, Copper, Stainless, Nickel alloys, and even Metal Matrix Composites

Down Force of up to 2,300 pounds (10,000N)

Width of up to 1.063 inch (27 mm)

The ability to join more layers in one pass
The SonicLayer X̅ seam welder features longitudinal ultrasonics to produce fully bonded solid-state welds.
The SonicLayer X̅ seam welder has manufactured a variety of electrical grade foils for interconnects, batteries and flexible shunts as well as welding dissimilar metal combinations such as Cu/Ag, Cu/Al, Al/Fe.
In addition to high-speed production of electrical systems, high-power seam welders can be used for metal foil packaging, sheet metal welding, cladding and selective reinforcement.
The SonicLayer X̅ seam welder can be used in any application needing to join metal foils or sheets together. Use this technology to join multi-material combinations of a vast array of metals and metal matrix composites.